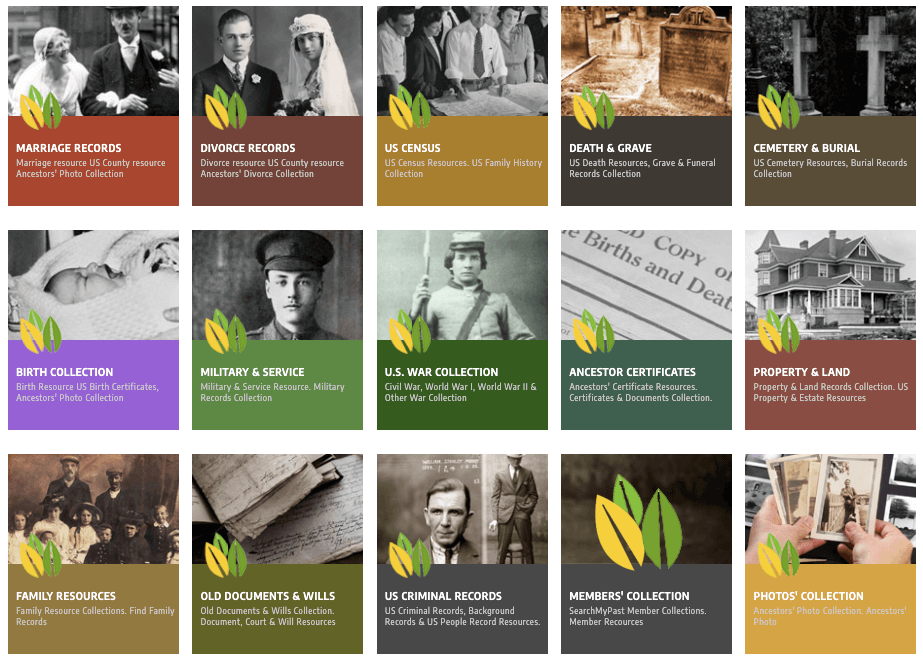 There are billions of records available online. Let us help you find them to further your family tree. Below is a general guideline to what available and where to find them.
General public records, marriage records, divorce records, US census public records, cemetery records and burial records, birth records, military records, military service records, United States (US) war records, ancestor certificate records, local government property records, land records, real estate court records, family records, will court records. United States criminal records, and much more.
PUBLIC RECORDS
The internet has turned into a big multi-tool that has helped many people locate their family members all across the vast expanse of written time. Some people use databases to search for their direct family's history whereas some people use it as a tool to locate family members who have vanished without a trace, have been adopted out, or who have just lost touch. In any case, there are many public records that one can gain access to which would help you identify any individual you may be actively searching for. Navigating these public records depends on certain factors such as State or Province, or how long ago the event was recorded. Keep that in mind when reading the following.
Must Read – 7 Tips for Searching Records
City Directories
Most larger developed cities in North America have a good history of public records by keeping track of who lived where. This information can be found in city directories, phone books, and other booklets one can easily access in our database. Public record sources generally provide information chronologically listed by last name, first name and followed by address and sometimes occupation. These directories in some places were made every year and this helps fill in the gaps between the federal census (done every ten years) and state censuses (done in certain US states every five years). The Federal Census in the US becomes public record after 72 years whereas Canada adheres to a 92 year rule. Again, both of these census can be found online through Ancestry and Familysearch but the City directories can act as a filler for those years as long as the person being researched resided in a community large enough to need a city directory. Oftentimes, if the county is in a rural area you may have luck locating a county census or county directory that would be similar.
Newspapers
Within my own experience of doing family history I have found that having a subscription to an online newspapers archive is a huge bonus. Specially, when it comes to public records. Here you can find local news of most times and most places your ancestors may have lived. To make things even more of an added benefit the newspapers keep track of locals who are born, who marry, divorce, die, and even who got put into the county poor house. We may think social media is bad today but most places threw out people's laundry quite a bit back in the day. Newspapers are a very insightful look at our ancestral past.
Vital Records:
Birth Records
If researching public records in the United States, chances are there is a birth index where you can find the date and name of the person born. This information also changes state to state but sometimes the index will also list the maiden name of the birth mother. Very few states will even keep in the birth indexes babies who were adopted out. In Canada, however, it is very unlikely to gain access to a birth record on any database lie Ancestry. Instead, one would have better luck to source this information by a church's baptismal record.
Marriage Records
In some states and provinces you will be able to access marriage certificates and licenses. Generally speaking there is an index which helps you navigate these public records fast and easy. Birth dates, sometimes birth place, names of parents, numbers of times married, date of marriage, and witnesses are listed.
Divorce Records
Most public divorce records list really important information regarding the marriage. Important to note is WHO filed, and WHY along with the number of children born during the marriage. Most places would list all of this information but, again, may vary from state to state and province to province. You may also find divorces granted in a section of the local newspaper (usually by the obituaries, births, and marriages).
Death Records
Depending on the state in the United States, Death records become public records after a certain amount of time. These public records are incredibly helpful in providing a good source for a date of death or for the name of parent or birthplace. In Canada, public records, specifically vital records, will not be found online as they have very strict security measures in place.
PROBATE RECORDS
Escrow Courts
Many times there are escrow court public records that can be obtained  by sending a records request to the appropriate county (dependent on State). The information gathered in these court records is to help identify who the legal heir of the property in question is. Probate or Escrow courts generally help locate legal heirs of deceased persons who had died without a will. If someone lived alone and died intestate, it is quite possible this information can be received after a certain number of years have passed.
Wills & Testaments
Last Wills and Testaments are very important and exciting documents that one may come across while studying their family's history. These documents provide the researcher with a first look at what possessions their ancestor would have in their homes. Anything from cattle, to the candlestick that sat beside their bed. You will find very descriptive legalize which details their children, most times in birth order, and to what they will receive when the person dies. Reflected in these documents is the financial state of families and sometimes even the social dynamic within the family unit.
With African American genealogy it is very important to follow wills as enslaved ancestors were seen as property to their owners and many times if you have a dead end in your family tree, the hint might lay within the will of their slave owner.
Land Grants & Purchases
It is of key importance to keep track of our ancestral past and, more often than not, a family home will be owned, passed down, sold, or sadly even torn down. Family farms in Sweden are generally still in the same family as a summer house today, as it is only human to have sacred grounds over the land that brought our ancestors up and, in the long run, brought us up as well. Using public land records to see who purchased what and for how much is a great resource. Many times you will find someone selling a home for pennies on the dollar which is just a sure way to make sure the family member or close friend did the process in a just and legal fashion.
LOCAL COLLECTIONS
For public records, it is important to know that local libraries will always have something to dive into. Sometimes sending a request in or just asking a question can further your family research. Your librarian may even know of a private collection somewhere that may help you. A lot of public and private records during wars were taken from libraries and archives to be safeguarded from being set on fire and destroyed. Many of these public records have been making their way online, back to protected archives, and some have even continued to be safe guarded in private collections. All it takes is one document somewhere to get past a hiccup, brick wall or dead end.
CRIMINAL RECORDS
As discussed earlier the accessibility of these public records depends on the place, how long ago it occurred, and the crime that took place. If searching for a specific event that happened a while back, I would turn to newspapers. If looking for recent events, I would do the same or I would contact the county if you feel you have some kind of familial obligation to obtain any information. I see more mug shots popping up on state archive websites all the time.
MILITARY SERVICE COLLECTIONS
The best database for military public record collections is Fold3. This website has millions of public records for service members who served all the way back to the Revolutionary war. Many of these public records include events that took place during the military service which paints a very real picture about what kinds of experience your ancestor would have lived through.
SEARCH NOW FOR: general public records, marriage records, divorce records, US census public records, cemetery records and burial records, birth records, military public records, military service records, United States (US) war records, ancestor certificate public records, local government property records, land court records, real estate court records, family public records, will court records. United States criminal court records, and much more.