Looking for an Irish Genealogist to complete your Irish Genealogy?
We're a professional genealogy research company who can help you complete your genealogy.

Our Irish Genealogy Experts
Irish Genealogist, Irish Genealogy, Irish Ancestry

available
Christina
(Dublin, Ireland)

available
Kayleigh
(Kildare, Ireland)

available
McKayla
(Cork, Ireland)
+ 3 More Researchers
Ballyvaughan / Ireland
Limerick / Ireland
Belfast / N. Ireland
If you're interested in tracing your Irish genealogy, you're in luck. Genealogical research is a popular hobby, and there are plenty of resources available to help you get started. This guide will walk you through the basics of researching your Irish genealogy, from finding records online to navigating archives in Ireland. So whether you're just getting started or you've been working on your family tree for years, this guide will help you take your research to the next level.
Assuming you know what part of your Irish ancestry you need help with, otherwise the challenges you face can be difficult. Not to worry, this guide will offer much needed assistance.
Key Takeaways:
For best and accurate results, hire a professional company,
Make sure your genealogist is located in Ireland,
Don't pay $1000's or $10000's, when you can pay $100's,
Make sure you have direct communication with the lead genealogist.
Save time and money by hiring one of RecordClick's Irish genealogist.
---
Are you Tracing your Irish Ancestry
Tracing your Irish family ancestry is easier of the options available on this page. That's because, you're searching for online records and building your Irish geneology ancestry tree for joy. While the same cannot be said for other areas of Irish research. You'll find this research tool full of Irish genealogy links and tips.
Are Eligible for Irish Citizenship Through Descent
Many individuals seek Irish citizenship through descent, even if they don't live in Ireland. The process of obtaining citizenship can be challenging but it can be started if your parents were born in Ireland or if you were adopted there. There are some additional stipulations but it starts with knowing if you have Irish roots.
Here are some of the many questions that need answering:
Is your parent Irish or UK?
Did you parent live in Ireland or Northern Ireland for 3 out of 4 years before you were born?
Did your parent have the right to live in Ireland or Northern Ireland?
Where you born on or after January 1, 2005?
Get Help with your Dual Citizenship Ireland Application
Navigating your dual application requires professional assistance. We already recommend that you first talk with an immigration professional before investing too much time and money into the process.
Once you've decided to move forward, you're going to need help obtaining records, identifying your family's history, and completing your application. The entire process can take from 1 year to 5 years, so be prepared for the different stages and the time requirements.
Year 1
Gather your documents and proof of ancestry by searching and collecting records in your home country and Ireland. Depending on your proof of your Irish decent, you'll need to apply to different others. Such as, Foreign Births Register, Ireland Immigrant Investor Programme, etc.
Year 2
If all complications are avoided, you can expect to have your citizenship certificate sent to you after 12 to 18 months. Otherwise you might have to wait 3 years before you can petition the Minister for fast-track naturalization.
Year 3
If your situation requires you to petition the Minister for naturalization, that can be done after 3 years of legal residence. However, you must submit all documents proving your ancestry. The approval is expected to another take 2.5 years.
How to Research your Irish Genealogy
If you're interested in researching your Irish family genealogy, there are a few things you'll need to do. First, you'll need to gather as much information as you can about your ancestors. This includes their full names, dates of birth and death, and any other relevant information. You can typically find this information by searching through family records or public records.
Once you have this information, you can begin your search by visiting the websites of the National Archives of Ireland or the General Registrar's Office. These websites will allow you to access a variety of records, including census records, birth and death records, and marriage records.
You can also visit the Family History Center of the Church of Jesus Christ of Latter-day Saints to access additional records. By following these steps, you can begin to piece together your ancestry and learn more about your family's history.
Top 5 Tips:
Use a family tree template or write down all the information you already know.
Start with yourself and work back in a direct line – one family ancestry side at a time.
Locate as many free genealogy websites and researchers as you can (many listed below).
Once you've found proof of a relationship, record it by adding the details to your tree.
You're going to hit a genealogy brickwall – don't worry this happens to everyone; seek help.
Build a Family Tree
From day 1, start by listing all your know family members on a tree. This will help you visualize your ancestry and direct you in the areas that require your attention.
You can download a free family tree template to get started.
Keep in mind, genealogy is a popular hobby for many people, as it can be both interesting and informative. If you're just getting started, one of the best ways to organize your research is to create a tree. There are several ways to do this, but one of the simplest is to use a printable tree template.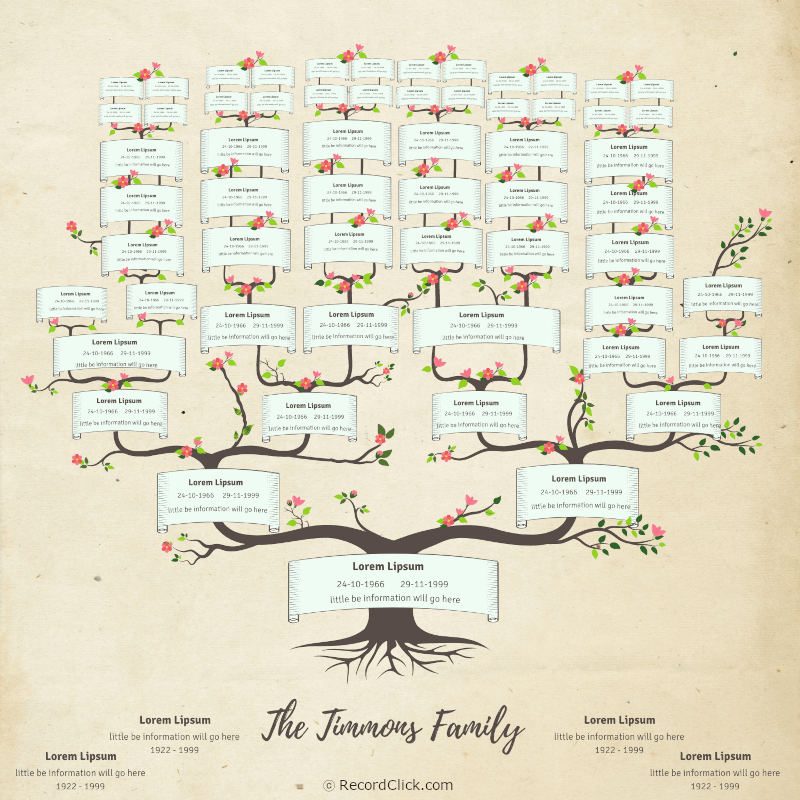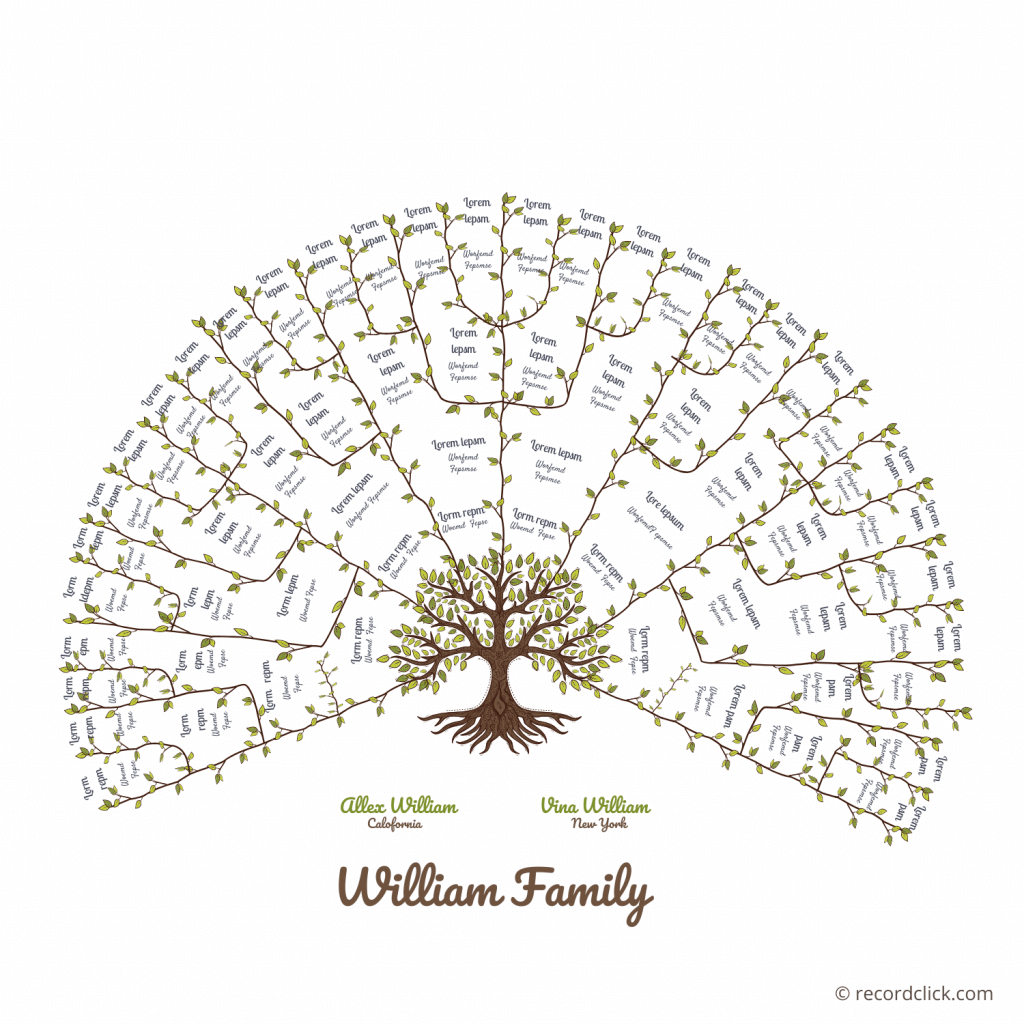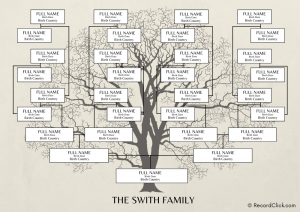 You can find them here: https://recordclick.com/templates/
When to Hire a Genealogist Ireland
When you've hit a brickwall or having difficulties find online resources or the help you garnished from others isn't helping you with your progress, then it's usually a sign that it's time to hire a profession genealogist.
How to Hire a Irish Genealogists
Genealogists are professionals who specialize in tracing family histories. They can often provide invaluable information about your ancestors, including their names, dates of birth and death, and places of origin.
In addition, genealogists can help you to understand the historical context in which your ancestors lived. When hiring a genealogist, it's important to choose someone who is experienced and reputable.
You can ask for recommendations from friends or family members who have conducted similar research. Find a genealogist who specializes in Irish genealogy can be a little more challenging. The type of professional their you're going to require will most likely reside in Ireland.
If you're located in Ireland then challenge can be avoided. If you're not, then you directly hiring a research from there comes with some risks. In most cases, it's advised to hire a company then it is to hire an individual. Irish genealogy research companies usually have a full support staff, multiple researchers, some historical background for you to review, etc.
Search Online Repositories
The deeper you dig for ancestors, you soon discover that not all records are available online (Ireland birth records or Irish birth certificates, wills, burial, baptism, marriages, reports and records and stories). As such, you'll need to find a Irish genealogy services provider that can help you navigate your findings. Regardless, if the families are in Dublin city, online sources, national library of Ireland, or in Canada or Australia.
Only a professional genealogists researcher with local knowledge will be able to navigate and identify your stories.
Challenges of Tracing your Irish Ancestors
For an Individual
For individuals, it's the fact that every day new databases are coming online. There are so many sources that it is difficult to know which one is best or most reliable.
We all want our ancestors' lives to be documented and remembered, but it's difficult when so many records remain locked up in old church parish registers. Imagine waiting for years before finally hearing that release date!
However, there are still so many records, and documents that are still held locally such as church parish registers etc.
For a Genealogist
Genealogists often find themselves searching for treasure in the form of records that were lost or destroyed in courts fire. One example is census forms from Ireland's early 20th century, which were burned during its civil war period – but luckily enough we still have other sources like land deeds and electoral rolls to use as substitutes!
Finding a Professional Genealogist Ireland
If you're looking for a professional genealogist, the Internet is a great place to start your search. While there are many reputable genealogists online, there are also a lot of charlatans and frauds. So how can you tell the difference? Here are a few tips to help you find a reliable genealogist online:
First, check out the genealogist's website. Does it look professional? Are there testimonials from satisfied clients? If not, move on to another genealogist.
Second, contact the genealogist and ask questions about their services. A professional genealogist should be able to answer your questions quickly and thoroughly.
Third, request a sample of the genealogist's work. This will give you a good idea of their research skills and writing style.
Finally, ask around. Talk to your friends, family, and colleagues who have used professional genealogy services. They can give you first-hand information about the quality of the genealogist's work.
By following these tips, you can be sure to find a qualified and professional genealogist online.
How Much does Genealogists in Ireland Cost
Hiring a professional genealogist can be a costly investment, but it is one that can pay off in a big way. When researching your family history, it is important to have access to accurate and up-to-date information. A genealogist in Ireland can provide you with this type of information, as well as help you to find records that are not readily available. The cost of hiring a genealogist will vary depending on the amount of time and research involved. However, it is important to remember that this is an investment in your family history. By taking the time to hire a professional genealogist, you can ensure that your research is accurate and complete.
A researcher in Ireland will typical cost around 100 EURO's per hour plus expenses.
Currencies and Complications
When hiring a researcher from Ireland, or for any where else for that mater, to research your Irish genealogy do consider the following potential issues:
If you're paying in EURO's, how are you going to send that invoiced in that currency?
If you plan on wiring the funds, who's going to pay for the additional fees? The researcher never wants to pay the fees.
If your researcher doesn't answer an email after a week, how are you going to contact him/her?
Researchers always want 50% of front, are you will to take that trust?
What if the work doesn't meet your needs, who's accountable for the failure?
What privacy protection is in place to assure your information is protected?
Will your researcher be able to visit different areas all around Ireland?
What will be the travel cost implications if you hire one researcher and he/she needs to travel all around Ireland?
There are many issues to consider when conducting Irish family history research, as such, we already recommend working with a company who offers Irish genealogy services verses a researcher directly. Many of the same researchers you'll find working independently in Ireland also work for companies on a per subscription based.
Accredited Genealogists Ireland
At the AGI website, you'll find a number of family research specialist; however, they same issues we described above are commonly shared with us from our customers. For example, you may be in a similar situation, we have a customer named, let's call him Barry Fitzgerald. Barry is proud of his Irish heritage who is located in the New York area and needs some research completed in Ireland. He hired a genealogist from AGI; however, he had to pay in EURO's and there was no accountability regarding the research completed.
Barry appreciated working with us because:
Our rates were half of those of researchers in Ireland.
He didn't have to pay in EURO's as only charge USD.
He not got a researcher, but also a project manager, a number of researchers as backups.
He paid a fixed rate so there were no bill surprises.
He was able to call us during normal business hours in his local area.
Free Irish Genealogy Assessment
Handy Irish Genealogists Links
Here are some important Irish genealogy websites to consider fro your Irish genealogy services:
Why Hire a Irish Genealogist at Record Click
When it comes to trace ancestry, Irish family history research, you will be impress. During the entire research process you while work side-by-side with our genealogists; witnessing the mysteries that they uncover.
If you are looking for Irish genealogists for hire, then you've landed on the correct website and found us. We are a group of 45+ professional genealogists and we have well over 15+ years experience in Irish genealogy research area. Including, family history, church records retrieval, census records, identifying Irish ancestors, or any other Irish record retrieval or ancestry.
If you've hit a roadblock in your research for ancestors our Irish genealogists are available for hire for your genealogy research needs. Our ancestry genealogists are also available if you are searching for roman catholic records.
Hire a Professional Irish Researcher
Yes, hire a professional genealogist to find answers to your genealogy questions. With our Irish genealogy services, we are experts at retrieving records from Irish repositories or research the history of your family homes. When it comes to Ireland genealogy, we have a dedicated team in Ireland and her in the US. Our Ireland genealogy teams are perfect for your research; trace Irish ancestry.
Contact the experts at Record Click. We have ideas for finding that long lost ancestor and will help you with your genealogy and trace ancestry. Regardless, if you're searching for census records, church records, Irish civil war records, British army records, parish registers, roman catholic church records, genealogy Ireland, or family roots library records. Our dedicated team of genealogist in Ireland would be perfect for Irish ancestry trace.
IMPORTANT – This article is provided for information only and is not to be construed as legal advice to any person or entity. The author is not an attorney and cannot provide legal advice to anyone. For up-to-date regulations and procedures, please consult with a legal entity, immigration lawyer, or any other attorney.