German Citizenship & Ancestry – Obtaining German Citizenship by Descent – Help with your Application
We're a professional genealogy research company. Our German researchers can help you locate records in Germany, complete your citizenship by descent, find your German roots and your German ancestry, locate pictures and ancestral stories, and more…

Our German Genealogy Experts
German Genealogist, German Genealogy, German Ancestry

available
Max
(Holzgerlingen, Germany)

available
Matteo
(Munich, Germany)

available
Tilda
(Essen, Germany)
+ 2 More Researchers
Hamburg / Germany
Frankfurt / Germany
If you're interested in tracing your German ancestry, you're in luck, we're here to help you. After Irish genealogy, German genealogy research has become the second most researched ancestry area. Rightly so, as there are many German families living throughout the United States and the world. This guide will walk you through the basics of researching your German ancestry, from finding records online to navigating archives in Germany. So whether you're just getting started or you've been working on your family tree for years, this guide will help you further your research.
Regardless, if you're researching your German roots or determining if you qualify for German citizenship by descent, the challenges you'll face can be daunting and difficult. Not to worry, this guide will offer much needed assistance.
Key Takeaways:
For best and accurate results, hire a professional company,
Make sure your genealogist is located in Germany,
Don't pay $1000's or $10000's, when you can pay $100's,
Make sure you have direct communication with the lead genealogist.
Save time and money by hiring one of RecordClick's German genealogist.
---
How to get German Citizenship by Descent & Your German Ancestry?
Connecting the dots to a German ancestry could make you eligible for German citizenship. In August 2021, Germany started the Descent Program to allow descendants of German citizens to become citizens of Europe's economic powerhouse.
The program comes with unique requirements easier to achieve than other citizenship acquisition methods like investment.
Moreover, earning German citizenship grants you access to the country's passport, the third-best travel document worldwide, and potential leverage to enrich your personal life and development.
But first, you must trace your lineage to that German great-grandmother or father. You also need to know about the paperwork and timeline, which, as you can guess, is tricky. Therefore, it's wise to consult a professional to understand the maneuvers and save yourself from stress and disappointments.
Through our solid experience in tracking lineage and ancestry across Europe and beyond, we'll address every of your concern regarding German ancestry. We've done all the work, from eligibility checks to the application process, to ensure you get your German passport ASAP.
Important Factors to Consider
Citizenship by descent and ancestry is citizenship granted to descendants of a dead or exiled citizen.
Correctly tracking your lineage to a German ancestor is the most important step in checking eligibility for German citizenship by descent.
Record Click Professional Genealogists will perfectly navigate the national library, quickly track your story, and expedite the German citizenship application process.
What Is Citizenship by German Ancestry?
Citizenship by descent and ancestry is citizenship granted to descendants of a dead or exiled citizen. So, if your German great-grandmother moved to the US, all the subsequent descendants could apply for German citizenship.
How To Claim German Citizenship by Descent & Ancestry?
Correctly tracking your lineage to a German ancestor is the most important step in checking eligibility for German citizenship. This means that you may need the help of a professional genealogist. Don't worry. We've covered more on that below. First, let's run through the mandatory boxes you must tick to qualify for the application.
You could be eligible for German citizenship if your great-grandparents were German nationals, but it's not always the case.
You can only claim German citizenship by ancestry if:
Your German ancestor lost their German citizenship through religious, racial, and political biases during the 1938 Nazi rule.
The ancestor held a German passport before or was born in the country before 1914.
The ancestor was working for the government before 1949.
You were born before 1975 by a German citizen father.
You were born after 1975 to a German father or mother.
You're an "out-of-wedlock" child born after June 1993 by a German citizen father. This clause also requires that you have your paternity proven before you turn 23.
These scenarios form the basis of German citizenship by descent application. So, if your circumstances don't feature above, you're unlikely to get citizenship.
What Is the German Descent Program?
Germany launched the Decent program after it enacted the National Act in 2021 to address citizenship issues caused by discrimination in past regimes. It allows children born after May 23, 1949, to a German parent to claim citizenship.
Throughout that time, some German citizens had their citizenship revoked so as not to pass it to foreign spouses or children born of foreign spouses. The new rules will remain for a decade, and you stand to benefit if:
You're a child of a German mother who lost citizenship after marrying a foreign father.
You are an "out-of-wedlock" child born of a German citizen and a foreign mother.
Child or grandchild of the people highlighted above.
The German Citizenship by Descent Application Process
As mentioned earlier, proving the link between you and your German ancestor is the most important part of the application process. You must present supporting documents to keep the record straight and prove you are clean. Some of the documents you may need include;
A recorded pedigree chart of your family
Birth certificate
Marriage certificate
Ancestor's passport, birth certificate, marriage certificate, and ID
Vollmacht or Power of Attorney.
How To Research Your German Genealogy?
Tracking your German ancestor involves detailing the full names of every person connected to you. The family tree has proven most effective in expanding your family detail with you as the root. Download free family tree and make family research a study and a fun activity in your living room. Every space in the family tree should include the person's full name, special dates like birth and death, and other relevant information.
You can download a free family tree template to get started.
Keep in mind, genealogy is a popular hobby for many people, as it can be both interesting and informative. If you're just getting started, one of the best ways to organize your research is to create a tree. There are several ways to do this, but one of the simplest is to use a printable tree template.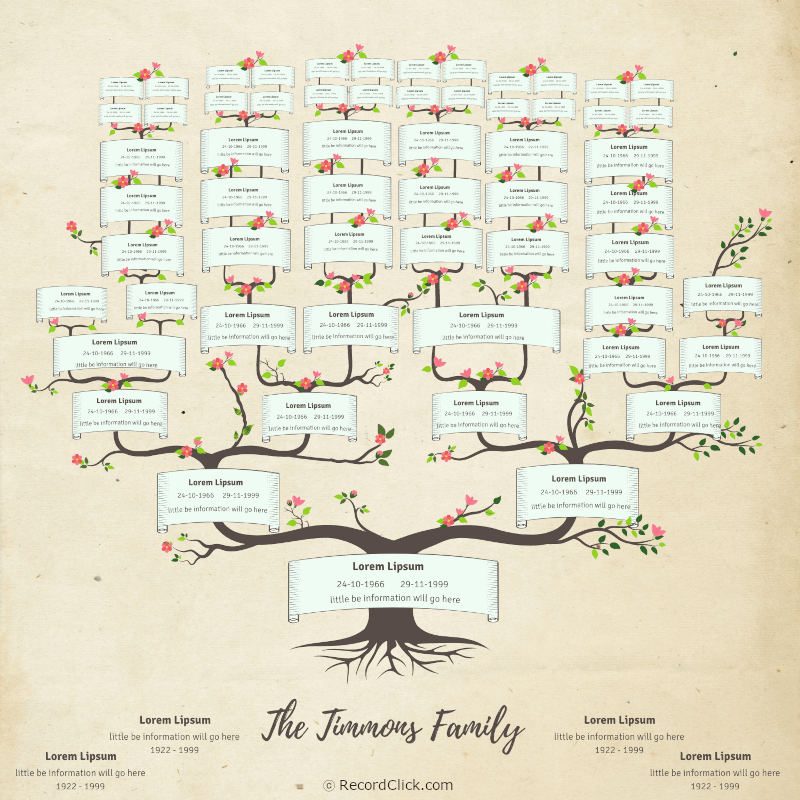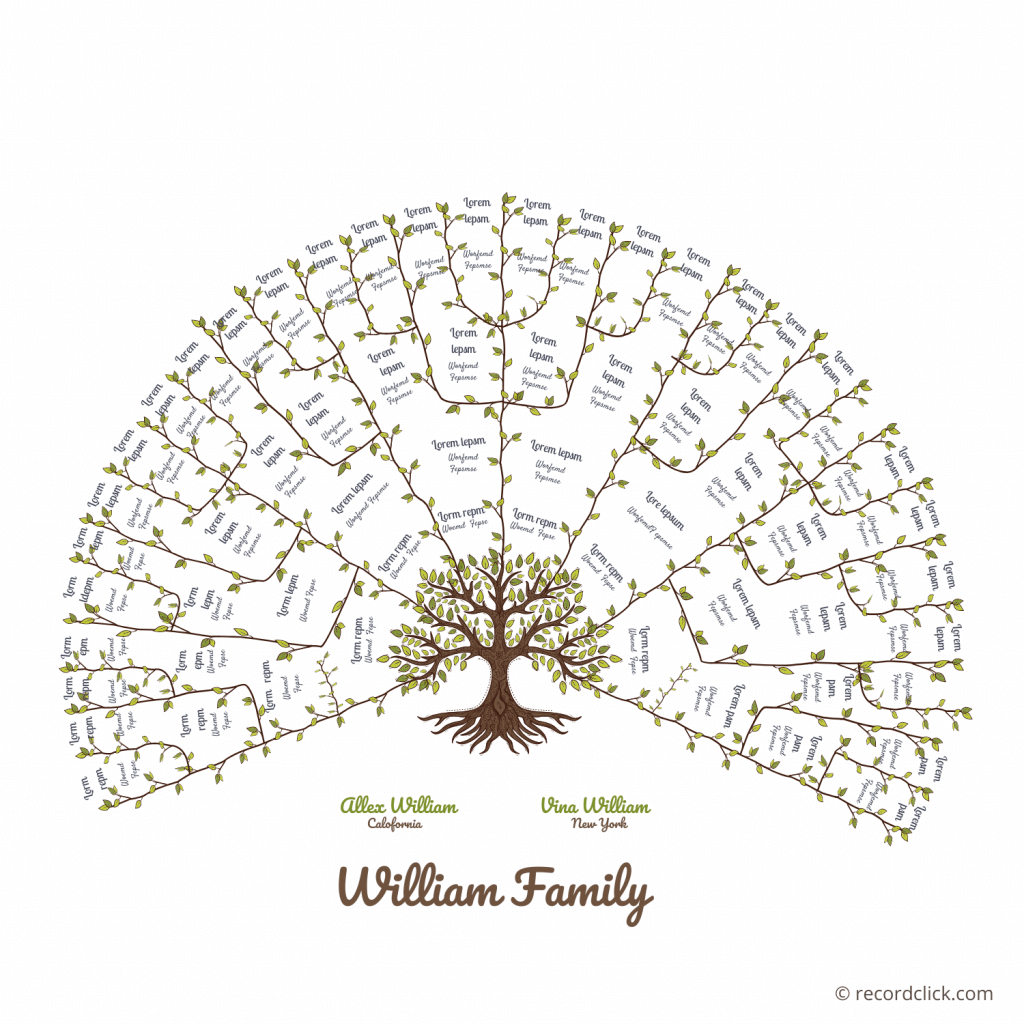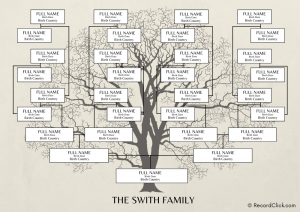 You can find them here: https://recordclick.com/templates/
If you don't have any reference material at your disposal, try online searches for any clues. Besides, you can visit the National Archives and General Registrar's office for all the records from birth to census.
In theory, the process sounds easy, but piling up the paperwork and dealing with all the bureaucracy, can be a hassle. This is the point you need a professional genealogist.
A genealogist specializes in the descents of persons and knows the checkmarks of finding a specific ancestor. Record Click Professional Genealogists will expedite the process of unearthing personal information and help you understand the historical contexts. Only a professional genealogist can perfectly navigate the national library and quickly track your story. They also come in handy when you want to ensure you get everything right during the German citizenship application by descent.
However, it's advisable to contact your state's German consulate general office for directions on the application process, especially regarding descent and ancestry. The application fee is about $30, and your citizenship could take more than two years. Of course, the first step in the citizenship application process starts by visiting the state's German consulate with your genealogy information and records.
Know Your Past to Plan Your Future
Everyone would scrabble for "free" citizenship, especially from a country like Germany. However, that's until we gauge the possible impacts on our lifestyle. Luckily, Germany is a developed country to prompt exploring even ancestry roots for citizenship's sake. The process is easy and inclusive, but you might have to wait a few years to enjoy the full benefits of German citizenship.
How Much does Genealogists in German Cost
Hiring a professional genealogist can be a costly investment, but it is one that can pay off in a big way. When researching your family history, it is important to have access to accurate and up-to-date information. A genealogist based in Germany can provide you with this type of information, as well as help you to find records that are not readily available. The cost of hiring a german genealogist will vary depending on the amount of time and research involved. However, it is important to remember that this is an investment in your family history or your dual citizenship application. By taking the time to hire a professional, you can ensure that your research is accurate and complete.
A researcher in Germany will typical cost around 130 EURO's per hour plus expenses.
Currencies and Complications
When hiring a researcher from German consider the following potential issues:
If you're paying in EURO's, how are you going to send the invoiced amount in that currency?
If you plan on wiring the funds, who's going to pay for the additional fees? The researcher never wants to pay the transfer fees.
If your researcher doesn't answer an email after a week, how are you going to contact him/her?
Life happens, but who's going to keep your researcher accountable?
Researchers always want 50% of the total up front, are you willing to take that risk?
What if the work doesn't meet your needs, who's accountable for the failure?
What privacy protection is in place to assure your information is protected?
Will your researcher be able to visit different areas all around Germany?
What will be the travel cost implications if your researcher needs to travel all around Germany?
There are many issues to consider when conducting German family history research, as such, we already recommend working with a company who offers German ancestry services verses a researcher directly. Many of the same researchers you'll find working independently in Germany also work for companies on a per subscription based.
Accredited Genealogists in Germany
At the AGI website, you'll find a number of family research specialist who are accredited; however, they face the same issues we described above. For example, you may be in a similar situation, we have a customer named, let's call her Alicia. Alicia is proud of her German heritage who is located in the New York area and needs some research completed in Germany. He hired a genealogist from AGI; however, he had to pay in EURO's and there was no accountability regarding the research completed. She worried sick and didn't if there would be an outcome from the research efforts.
However, after Alicia hired us, she appreciated us because:
Our rates were half of those of researchers in Gremany.
She didn't have to pay in EURO's as we only charge USD.
She not only got a researcher, but also a project manager and a number of researchers as backups.
She paid a fixed rate so there were no billing surprises.
She was able to call us during normal business hours in his local area.
Free German Genealogy Assessment
Why Hire a German Genealogist at Record Click
When it comes to trace ancestry, German family history research, you will be impress. During the entire research process you while work side-by-side with our genealogists; witnessing the mysteries that they uncover.
If you are looking for German genealogists for hire, then you've landed on the correct website and found us. We are a group of 45+ professional genealogists and we have well over 15+ years experience in German genealogy research area. Including, family history, church records retrieval, census records, identifying German ancestors, or any other German record retrieval or ancestry.
If you've hit a roadblock in your research for ancestors our German genealogists are available for hire for your genealogy research needs. Our ancestry genealogists are also available if you are searching for roman catholic records.
Hire a Professional German Researcher
Yes, hire a professional genealogist to find answers to your genealogy questions. With our German genealogy services, we are experts at retrieving records from German repositories or research the history of your family homes. When it comes to Germany genealogy, we have a dedicated team in Germany and here in the US. Our genealogy team is perfect for your research; trace Germany ancestry.
Contact the experts at Record Click. We have ideas for finding that long lost ancestor and will help you with your genealogy and trace ancestry. Regardless, if you're searching for census records, church records, German civil war records, British army records, parish registers, roman catholic church records, genealogy Germany, or family roots library records. Our dedicated team of genealogist in Germany would be perfect for German ancestry trace.
IMPORTANT – This article is provided for information only and is not to be construed as legal advice to any person or entity. The author is not an attorney and cannot provide legal advice to anyone. For up-to-date regulations and procedures, please consult with a legal entity, immigration lawyer, or any other attorney.