How to get Italian Citizenship by Descent & Your Italian Heritage
We're a professional genealogy research company who can help you complete your genealogy.

Our Italian Genealogy Experts
Italian Genealogist, Italian Genealogy, Italian Ancestry

available
Massimo
(Modena, Italy)

available
Elia
(Crotone, Italy)

available
Caterina
(Sassari, Italy)
+ 2 More Researchers
Piacenza / Italy
Ragusa / Italy
Italy joins other EU nations considering descent and ancestry as one way to acquire citizenship. The Jus Sanguinis (Latin for 'right for blood') program allows foreigners to apply for Italian citizenship if they connect with the country's ancestors. Once granted citizenship through descent, you enjoy all the privileges a citizen enjoys, including an EU passport and election participation
Regardless, if you're researching your Italian roots or determining if you qualify for Italian citizenship by descent, the challenges you'll face can be difficult. Hope this guide can offer you some assistance.
Key Takeaways:
Citizenship by descent and ancestry is citizenship granted to descendants of a dead or emigrated citizen.
Correctly tracking your lineage to an Italian ancestor is the most important step in checking eligibility for Italian citizenship by descent.
Record Click Professional Genealogists will perfectly navigate the national library, quickly track your story, and expedite the Italian citizenship application process.
Save time and money by hiring one of RecordClick's Italian genealogist.
---
How Do I Qualify for Italian Citizenship by Descent?
Tracing your lineage to an Italian ancestor could be a game changer in the citizenship application process. However, genealogy is not the sole determinant; you'll have to prove that your citizenship application process also adheres to Italian laws.
Before August 15, 1992, Italian citizens had to renounce their citizenship if they attained citizenship for another country. So, if an Italian national visited the US and bore a child, the child would acquire US citizenship through 'Jus soli' synonymous with citizenship by birth. This would deprive them of the right to obtain Italian citizenship owing to the imposed laws before 1992 and also affect the subsequent generations.
However, the table has now turned for those affected by the set rules. Most countries, including the US, allow citizens to hold dual citizenship, so seeking Italian citizenship by descent won't affect your status quo. The case might be a little different for, say, Chinese or Kuwait nationals of Italian descent.
What Makes Me Eligible for Italian Citizenship by Descent?
You can acquire Italian citizenship by descent through the paternity line for all generations. However, if you're using the maternal line, the child of that ancestor must have been born after January 1, 1948.
What Is The 1948 Italian Citizenship Rule?
The 1948 rule, also dubbed the female line rule, allows you to acquire Italian citizenship through the courts if you were born before 1948 by an Italian mother. The law is based on the fact that the Italian constitution was adopted on January 1, 1948. So, the municipalities and consulates can only consider the period after that as the legal basis through which you can seek citizenship by birth from an Italian mother.
However, the opinion has shifted as Italian courts extend the equality principle in cases where claimants were born to Italian mothers before 1948. This is only the case for some applications. The Civil Court of Rome remains with the final verdict for each case featuring children born before 1948 by Italian mothers.
Since the municipalities and consulates must strictly adhere to the established law of the land, they're duty-bound to reject any application before the set date. So, if your genealogy points to an Italian ancestor born by an Italian mother, grandmother, great-grandmother, etc., before 1948, don't waste your time submitting to consulates. Instead, it would be best to consider the Civil Court of Rome.
How To Research Your Italian Genealogy?
Tracking your Italian ancestor involves detailing the full names of every person connected to you. The family tree has proven most effective in expanding your family detail with you as the root. Download free family tree and make family research a study and a fun activity in your living room. Every space in the family tree should include the person's full name, special dates like birth and death, and other relevant information.
You can download a free family tree template to get started.
Keep in mind, genealogy is a popular hobby for many people, as it can be both interesting and informative. If you're just getting started, one of the best ways to organize your research is to create a tree. There are several ways to do this, but one of the simplest is to use a printable tree template.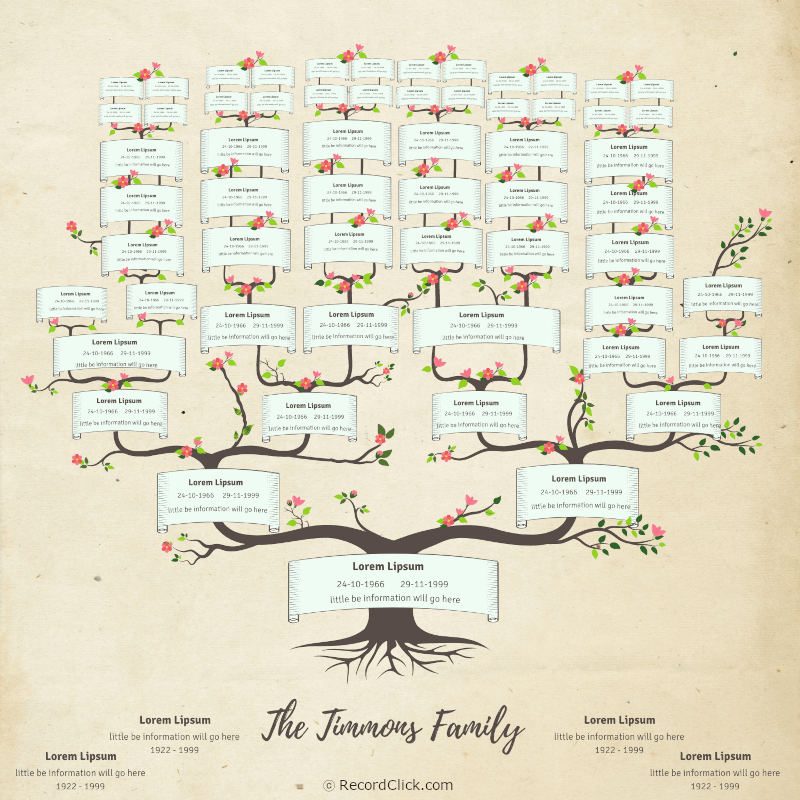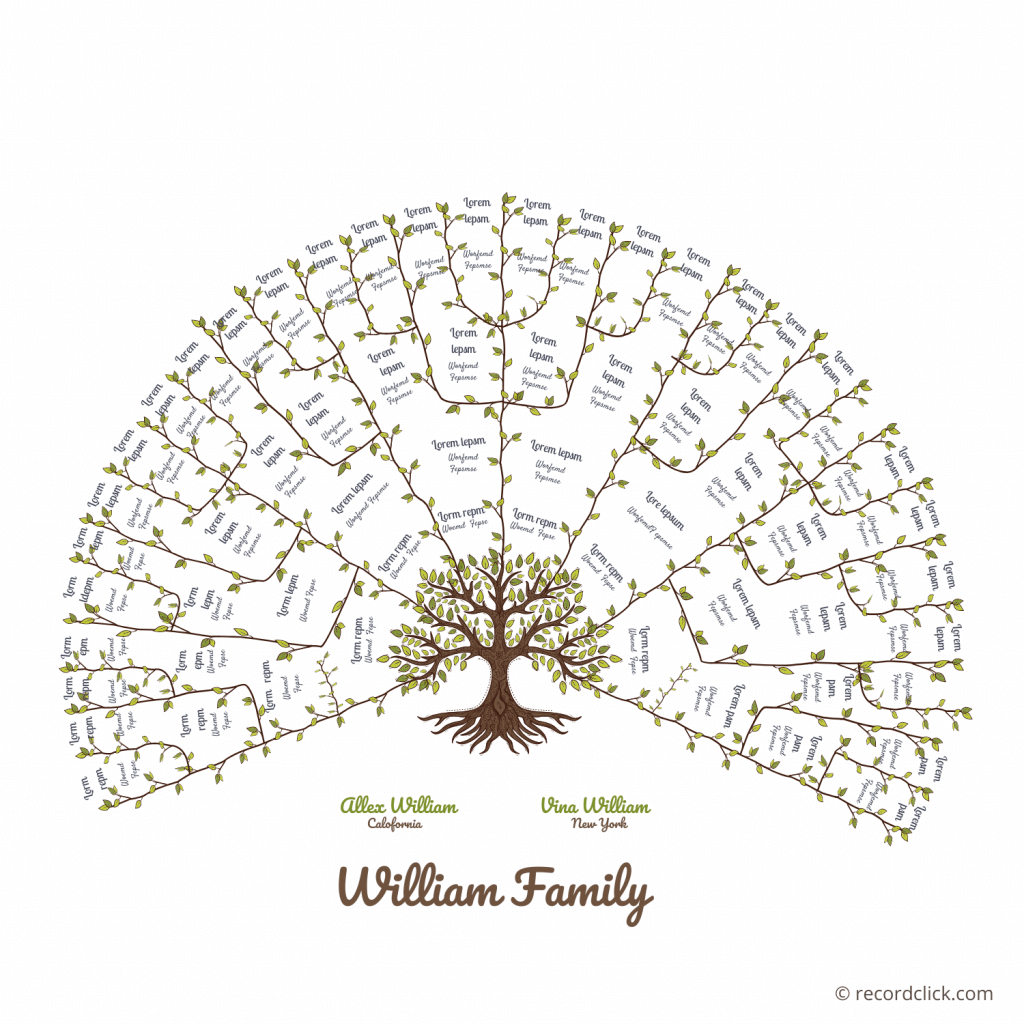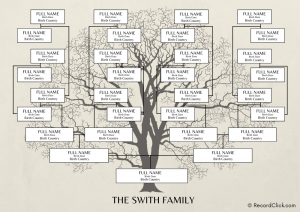 You can find them here: https://recordclick.com/templates/
If you don't have any reference material at your disposal, try online searches for any clues. Besides, you can visit the National Archives and General Registrar's office for all the records from birth to census.
In theory, the process sounds easy, but piling up the paperwork and dealing with all the bureaucracy, can be a hassle. This is the point you need a professional genealogist.
A genealogist specializes in the descents of persons and knows the checkmarks of finding a specific ancestor. A Record Click Professional Genealogist will expedite the process of unearthing personal information and help you understand the historical contexts. Only a professional genealogist can perfectly navigate the national library and quickly track your story. They also come in handy when you want to ensure you get everything right during the Italian citizenship application by descent.
How Italian Americans Can Acquire Italian Citizenship
If you're a citizen of another country seeking Italian citizenship by descent, you must meet the following criteria.
Your father was still a legal Italian national when you were born.
Your mother was a legal Italian national when you were born, and you were born after January 1, 1948.
Your paternal grandfather had legal Italian citizenship when your father was born out of Italy.
Your maternal grandfather had legal Italian citizenship when your mother was born out of Italy, and you were born after January 1, 1948.
Your maternal or paternal great-grandfather had legal Italian citizenship when your paternal or maternal grandparents were born out of Italy.
The Italian ancestor lived during Italy's unification on March 17, 1861.
Your Italian ancestor had his Italian citizenship by June 14, 1912.
Your ancestor naturalized in another country after giving birth to the next connector in the family tree. So, suppose your grandfather migrated and naturalized after your father's birth. In that case, you qualify for Italian citizenship by descent, provided the naturalization also occurred after June 14, 1912.
Relevant records like census reports indicating non-US status or alien files to prove that the ancestor never naturalized.
Your ancestor lived in Trentino Alto-Adige, Friuli-Venezia-Giulia, and Veneto and left Italy after July 16, 1920.
The Application Process
As mentioned earlier, proving the link between you and your Italian ancestor is the most important part of the application process. The three main channels to applying for Italian citizenship by descent include Italian consulate, municipality, and Italian court. You must present supporting documents to keep the record straight and prove you are clean. Some of the documents you may need include;
A recorded pedigree chart of your family
Birth certificate
Marriage certificate
Ancestor's Italian passport, birth certificate, marriage certificate, and ID
Power of Attorney.
If the application involves several members, you can submit all relevant documents as a set, provided they all connect to a common ancestor.
However, it's advisable to contact a professional genealogist, Jus Sanguinis attorney, or the state's Italian consulate general office for directions on the application process, especially regarding descent, ancestry, and fees.
How Much does Genealogists in Italy Cost
Hiring a professional genealogist can be a costly investment, but it is one that can pay off in a big way. When researching your family history, it is important to have access to accurate and up-to-date information. A genealogist based in Italy can provide you with this type of information, as well as help you to find records that are not readily available. The cost of hiring an Italian genealogist will vary depending on the amount of time and research involved. However, it is important to remember that this is an investment in your family history or your dual citizenship application. By taking the time to hire a professional, you can ensure that your research is accurate and complete.
A researcher in Italy will typical cost around 130 EURO's per hour plus expenses.
Here is a great article on hiring a genealogist in general.
Currencies and Complications
When hiring an international researcher consider the following potential issues:
If you're paying in EURO's, how are you going to send the invoiced amount in that currency?
If you plan on wiring the funds, who's going to pay for the additional fees? The researcher never wants to pay the transfer fees.
If your researcher doesn't answer an email after a week, how are you going to contact him/her?
Life happens, but who's going to keep your researcher accountable?
Researchers always want 50% of the total up front, are you willing to take that risk?
What if the work doesn't meet your needs, who's accountable for the failure?
What privacy protection is in place to assure your information is protected?
Will your researcher be able to visit different areas all around Italy?
What will be the travel cost implications if your researcher needs to travel all around Italy?
There are many issues to consider, as such, we already recommend working with a company who offers Italian heritage research services verses a researcher directly. Many of the same researchers you'll find working independently also work for companies on a per subscription based.
Accredited Genealogists in Italy
At the AGI website, you'll find a number of family research specialist who are accredited; however, they face the same issues we described above. Higher rates, multiple currencies, and accountability issues.
Free Italian Genealogy Assessment
Why Hire a Italian Genealogist at Record Click
When it comes to trace your heritage, Italian family history research, you will be impress. During the entire research process you while work side-by-side with our genealogists; witnessing the mysteries that they uncover.
If you are looking for Italian genealogists for hire, then you've landed on the correct website and found us. We are a group of 45+ professional genealogists and we have well over 15+ years experience in Italian genealogy research area. Including, family history, church records retrieval, census records, identifying Italian ancestors, or any other Italian record retrieval or ancestry.
If you've hit a roadblock in your research for ancestors our genealogists are available for hire for your genealogy research needs. Our ancestry genealogists are also available if you are searching for roman catholic records.
Hire a Professional Italian Researcher
Yes, hire a professional genealogist to find answers to your genealogy questions. With our Italian heritage research services, we are experts at retrieving records from Italy repositories or research the history of your family homes.
Contact the experts at Record Click. We have ideas for finding that long lost ancestor and will help you with your genealogy and trace ancestry. Regardless, if you're searching for census records, church records, Italian civil war records, army records, parish registers, roman catholic church records, genealogy Italy, or family roots library records. Our dedicated team of genealogist in Italy would be perfect for ancestry trace.
IMPORTANT – This article is provided for information only and is not to be construed as legal advice to any person or entity. The author is not an attorney and cannot provide legal advice to anyone. For up-to-date regulations and procedures, please consult with a legal entity, immigration lawyer, or any other attorney.