Looking for a professional company with certified genealogist to complete a Heir Search, Estate Settlement, or a Probate Search?
We're a group of professional genealogist who work with lawyers, administrators, executors, trustees, bank and trust officers to complete heir search, estate settlement, probate research, lineages and heirsearch services.
---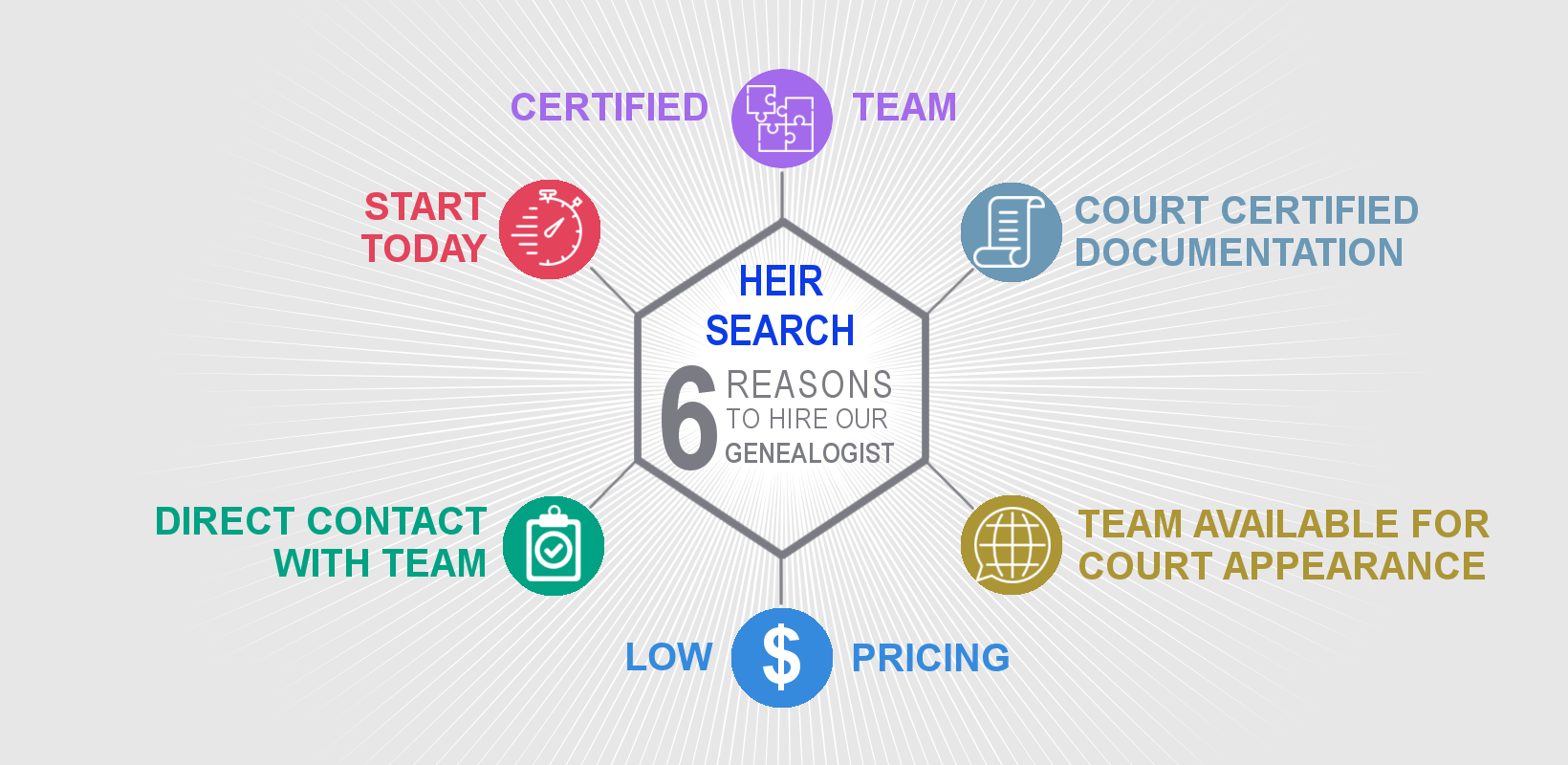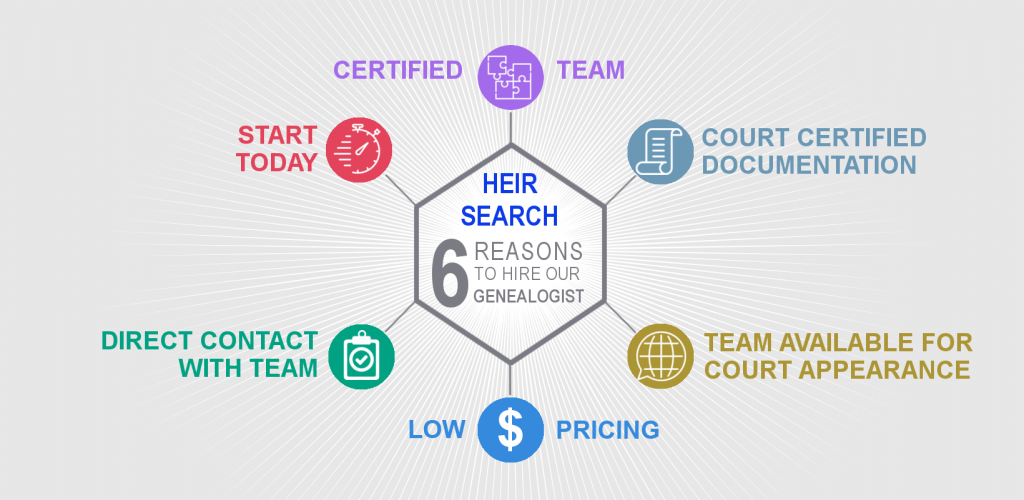 Key Takeaways: (Hire someone who meets these criteria)
Make sure the genealogist is certified,
Hire a company who's documents and reports can be used in court,
A company that's NOT going to charge your $10,000,
You have direct communication link with the lead genealogist,
Hire someone who is going to save you time, not burden your resources.
Save time & money by hiring RecordClick for your search.
---
What is a Heir Search and Lineage Search
Wondering what a Heir Search Services or Estate Settlement might be?
Heir research or an estate settlement is usually performed at times when someone dies without a will, although there are times when someone dies with a will, but the heir laws of the State require that all known heirs of the deceased be identified.
Whether or not heir search is required is determined by the Laws of the State.
In these states, living heirs must prove their right to an inheritance. During the heir research process, a professional genealogist usually conducts the heir research. This genealogist creates the family tree, retrieves necessary documents to prove the relationship of each member in the tree, and prepares an affidavit report of the findings.
A heir search report is usually presented to the Court as evidence.
Our Heir Search Advantages

Straight Forward Non-Percentage-Based Fees
To avoid any shocking bill surprises we don't charge per hour or based on success or percentage based like others. Rather, we offer 1 simple package to complete your goals. Within each research package our professional genealogist always over-deliver by spending at least twice that amount of time working on your project. Thus, delivering results in a consistant professional manner.

98% Success Rate
We're good at what we do; we complete heir searches successfully.

Documented Court-Ready Reports
We have a dedicated team of certified professionals available for you. Our case reports can be used in court as they're recognized as official documents. Plus, if needed, we're available to appear in court for testimonies.

Worldwide Service
Our team of 45+ experts include a former CIA agent, in-house DNA experts, researchers in all states, and researchers in all parts of the world. Save money and time; we have the best pricing in the industry and we're available to start today.
Types of Heirline Hunters?
Heirline Hunting is a specialty area of genealogy in locating missing heirs and beneficiaries. (I do not know that there are "types" of heir hunters.) These professionals specialize in locating unknown, lost, or a missing heir to an estate. The search process of unknown heirs is usually not that over complicated when a research specializes in estate settlement.
They are also known to contract with life insurance companies to locate the beneficiaries of unclaimed funds. This type of research not only requires genealogy skills, but also requires one to have very good detective skills. Heir searches with proper due diligence always results in find the missing individuals.
What you'll find as the main differencing factor in the services will be quality of service and the fee structure. There are only single hand full of companies that have built the trust, offer a competitive fee structure, and know the legal process for acquiring the information during and after the search. Don't let the fees be your only factor in selecting a company.
Are Probate Research Companies the Same as Heir Hunter Companies?
There are many, many professional genealogists, working at probate research companies such as Record Click, out there who perform estate research. Our genealogists are among them and we offer some of the lowest fees in the industry. Focusing on identifying missing heirs for probate court cases. The main difference to note is if probate researcher reports are usable in court.
In our mind, this type of research has a focus on creating the family tree and proving that the tree is correct with several supporting documents in evidence on each person in the tree.
In all of the missing heirs and beneficiaries search cases that we have worked on, it has not been difficult to locate the living heirs and obtain their addresses and phone numbers. The attorney or trust officers involved will usually tell the researcher ahead of time what relationship is being sought in the heirline searches.
Such as "Find all of the first cousins." And the attorney will specify if he/she wants cousins who are "once removed" or not.
If we had a situation where we had a name of a living heir, but no current address or phone number, and the remaining living heirs could only tell me that the person took off many years ago, and they haven't heard from him since – well, that is when the services of an missing heir hunter would be consulted.
All our establish kinship reports are court ready.
Referrals and Recommended Probate Search Firms to Help You
RecordClicks works with many different heir search lawyers in all states in the United States, Canada and European countries. With permission, we have listed a few of our recommended probate attorneys. You're welcome to contact them for your case or if you're an attorney looking for references.
Name
Address
Phone
Website
John V. DiAna
DiAna Law Group

2875 Spring Creek Lane
Walnut Creek, CA 94598
(925) 953-2024
dianalawgroup.com
Des Moines Elder Law

612 S. 227th St.
Des Moines, WA 98198
(206) 212-0220
desmoineselderlaw.com
Please contact us for our full list of probate attorneys or if you would like to be added to this list.
Sample Estate Settlement Search Documents
Here are 2 of the many documents you can expect from RecordClick when an estate settlement is requested. The documents have been trimmed and redacted to protect the privacy of individuals.
Sample Affidavit: Affidavit-Sample
Sample Estate Search Report: Georgia-Estate-Report-Sample
Can Anyone Complete a Missing Heir Search?
Anyone, including trust officers, can complete an heir search, but in most cases, their findings won't be accepted by the court. There is no concrete standard of what qualifies someone to perform locating missing heirs research as a genealogist so it's good practice to hire a firm who is not only qualified but also offers reasonable fee structure.
In the United States, for a probate court proceedings, this decision rests with the Judge of the specific case that is being researched. In every missing heirs search case we have worked, when locating heirlines, the Judge has requested a copy of the genealogist's resume, search firms credentials, and the search services performed.
In some heirsearch cases, for due diligences purposes, we are required to testify as to our findings, but before the questions about my findings, our genealogist can be drilled with questions from both attorneys about education & experience.
At the end of the question period about expertise, normally neither attorney object, and the Judge declares our genealogist as an expert in the research. So, as mentioned earlier, anyone can complete an heirline search, but that won't get you approved by the Court.
Find Missing Heirs with Forensic Genealogy?
Forensic genealogy is a study of family history that goes beyond what is provided on records at a firm. It uses DNA and photos to bring science into the research. But beyond that, it is not an area that some have worked with. Thus, forensic genealogy rarely plays a role in finding missing heirs search requests. 99% of locating missing heirs can be be achieve through records findings in the United States.
What are the Credential Requirements for an Heir Searcher?
As mentioned above, anyone can be an heir searcher and create an estate settlement report. There are no established credentials in the USA for an heir researcher who will be approved by the Courts. Credentials for trusted individuals have been set by the Board for Certification of Genealogists and adhered by a firm offering such services.
Certification is based on the submission of search and case studies over a period of several months. Another organization that provides credentials is The International Commission for the Accreditation of Professional Genealogists.
Accreditation is based on the submission of research projects, written exam, and oral review. Neither of these types of credentials require any type of formal education in genealogy.
A third type of credential is the Professional Learning Certificate in Genealogical Studies from the National Institute for Genealogical Studies.
There are colleges that also offer their own studies programs, and these colleges also offer professional certificates. The PLCGS program at the NIGS is education-based and requires the completion of 40 courses of studies.
As this is the program that many genealogist complete, we know that this credential has been accepted by the Courts. It is our believe that those with the CG (Certified Genealogist) and AG (Accredited Genealogist) have also been known to be approved by the Courts.
Various search firms, with proper due diligence, can help you find the information you are seeking at a reasonable fee. Contact us as we are a firm that can offer you a great fee structure in uncovering the information for your client and their possible inheritance.
What to Expect with Record Click's Heir Search Service?
Record Click's heirline researchers work with and assist the Attorney in finding the missing heirs to an estate. We document the evidence to validate the locating missing heirs to an estate and provide the attorney with the documents they need.
Heir Search When Estate Beneficiaries are Unknown
We can help when the estate beneficiaries are not known, need to be located, or when proof of the relationship is needed. We provides a simple hourly rate and does not expect or require a percentage of the estate.
Heir Search Experience & Credentials
We have experienced, credentialed researchers who are all over the USA, including in Salt Lake City, UT, the world-famous Family History Library, and international genealogical search expertise. Our researchers also have access to the constantly growing world of subscription internet services.
At the completion of your research, your report and all of your records will be provided to you in an attractive binder.
Customize Based on Your Heir Search Needs
We can customizes your heir search for the genealogical research you need for your firm, for your time frame, and for your budget. Contact us today to get started on your estate settlement.
For local and international services or heir searches, firms, attorneys and trust officers rely on Record Click for their work.
Summary
Trust us as your local and international genealogical search service provider, as we have a dedicated team of certified professionals available for you, with years of experience. Our reports can be used in court as they're recognized as official documents. Plus, if needed, we're available to appear in court for testimonies.
Our team of 45+ experts include a former CIA agent, in-house DNA experts, researchers in all states, and researchers in all parts of Europe. Services included: heir german, heirsearch, search for heirs, heir searches, heir finders, heir finder, heir in german
Save money and time; we have the best pricing in the industry and we're available to start today. We'll help you solve the unknown in your case. Please reach out to us today for more information.
Thank you. Rights reserved.
FYI – Heir search, heirsearch, estate settlement, heir hunting, and heirlines are very similar with subtle differences.