Photo courtesy: Joan Shurtliff
There are two holidays that have a special meaning to the family history researcher in me: Memorial Day and Veteran's Day. I'll save Veteran's Day for another time, but Memorial Day marks so much more than the beginning of Summer. It has its roots in the Civil War and the remembrance of the more than 4 million who served and the 1 million who died in that conflict. That constitutes a lot of stories for genealogists and family history researchers.
I have several Civil War veterans in my family, including my great great grandfather Luke Nicholas Teachman. There are no brave deeds or heroic tales in regard to his military service, because, in a lot of ways, I think he just wanted to go home. His military records help bring him to life.
Luke N. Teachman was an average man. According to his Company Descriptive Book, he was 5′ 8″ tall with a dark complexion, brown eyes, and black hair. He listed his occupation as "carpenter." His less than illustrious military career began with his enlistment on August 15, 1861 in Hancock, Pennsylvania, and ended just a little more than seven months later on March 26, 1862.
The military and its records can be confusing at times. In a couple of places Luke is listed as Luke M., musician, Co. F, 50 Reg't N.Y. Infantry. On other records, he is listed as Luke N. Teachman, Co. F, Stuart's Indept. Reg't N.Y. Infantry. He was 42 when he enlisted, and his being a musician sounds rather safe. The military, however, sometimes has a mind of its own.
In July of 1861, Col. C.B. Stuart received authority to recruit a regiment of infantry. It was organized in September 1861 at Elmira, New York. The 850 members of the unit relocated to Washington, D.C. In October 1861, Stuart's Independents was converted into and designated as the 50th Regiment of Engineers, with new duties assigned. In March of 1862, the 50th Regiment moved to Yorktown.
At about the same time the unit was relocating to Yorktown, Luke N. Teachman received a Certificate of Disability for Discharge. The information on the discharge certificate reveals a good deal of information:
Enlisted at Hancock, NY, 15 August 1861 (Note: In spite of what military records say, Luke N. Teachman and his family were living in Hancock, NY, at the beginning of the Civil War. He did have an individual, who I believe was his brother, who lived across the Delaware River in Honesdale, Wayne Co., PA.)
Born Orange County, NY
Age, 42; 5′ 8″ tall; dark complexion; brown eyes; black hair; carpenter
"He has done but very little duty since his enlistment, has no constitution & can be of no service in the regiment."
Station: Camp Lesley, Washington, D.C.
Company surgeon's note: "old age and a broken constitution. He has been unfit for duty several weeks."
This could be the end of the story, but in January of 1870, Luke decided to apply for a Civil War Veteran's pension. He was living in Lawrence, Schuyler County, New Yrok at the time. In testifying on his own behalf he stated that "he was atacked (sic) by a fever while serving at Camp Leslie near Washington City on or about the 1st of January in the year 1862 and when he recovered from the same this sickness had nearly made him blind and from that time to this his eye sight has been very bad…"
The application was denied.
In June of 1879, Luke decided to try again to apply for a Civil War pension. A lot had happened to him in the interim. In May of 1870, the family relocated to Nebraska to homestead. After the homestead process was complete, Luke and his wife, Margaret, separated and Luke moved to Lincoln, Nebraska. A form from the War Department Adjutant General's Office states: "Musician, appears to be present in Jan'y & Febr'y 1862, 'Discharged on Surg. Certif. of Disability March 26, 1862'." No pension.
Not to be deterred, Luke tried again. In a Supplemental Declaration for Original Invalid Pension dated 6 June 1885, Luke states that he served at Camp Leslie in the State of Maryland and he was stricken down with Typhoid Pneumonia that subsequently caused him to have "disease of kidneys, torpidity of liver, dropsy, weak back, sore and weak eyes and general debility… He was in hospital at Camp Leslie (a farm house being used for hospital)." He resided at Hancock, New York, from April 1862 to fall of 1863, then near the town of Smith Valley, New York from 1863 to 1870. Still nothing.
Luke continued to seek out his pension with less than satisfactory results.
Not to be dissuaded, on 3 April 1889, Luke filed yet another General Affidavit seeking his Civil War pension. This time he stated: "I think the action of the Pension Department in rejecting my claim on Sept. 15, 1887 was an error and that afterwards on April 20th 1888 to adhere to the rejection of Sept. 15th 1887 and not to reopen the claim was another error…" He restated his case and his reasoning. The pension was granted.
Next in Luke's file is his death certificate. This was a neat find because the State of Nebraska did not start registering births and deaths until 1905 [and was not admitted to the registration area until 1920.] However, Lincoln and Omaha began registering deaths earlier. He died on January 12, 1894. From the Nebraska State Journal, January 13, 1894: "Luke N. Teachman died yesterday morning at his home, Third and H streets, aged 78. The funeral will be held this afternoon at 2 o'clock from the house. Interment will take place under the auspices of the G.A.R."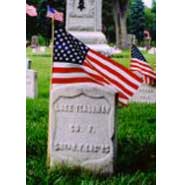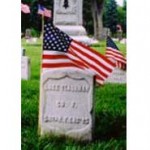 Luke's final resting place, complete with military tombstone, is in the Civil War Circle at Wyuka Cemetery in Lincoln, Nebraska. I find humor in the surgeon's note on Luke's Certificate of Disability for Discharge. After all the effort and almost 20 years to get the pension, "old age and a broken constitution" just don't seem to fit. Maybe Luke was something of an actor as well.
The Civil War records for Luke came from the National Archives. If the file is a big one, a special request may be needed to receive all of the records. There are many, many Civil War-related websites that can be of help for a family historian. If you have a New York soldier, for example, the New York State Military Museum, can provide background information on a specific unit.
Do you have an ancestor who served in the military during the Civil War? Would you like more information? The professional genealogists at RecordClick will be able to help find information on the individual or his military unit. The professional genealogists at RecordClick can also sort through the information to help supply insight into the individual and his military career.
And this Memorial Day, amongst the picnics and parades, take a moment to remember all those who have served this country from then to now.
Sources
National Archives, Civil War military record for Luke N. Teachman.
New York State Military Museum: New York in the War of the Rebellion, 3rd Ed., Frederick Phisterer, Albany: J.B. Lyon Company, 1912.
The Union Army: a history of military affairs in the loyal states, 1861-65 – records of the regiments in the Unions Army – cyclopedia of battles – memoirs of commanders and soldiers, Madison, WI; Federal Pub. Co., 1908, Vol. II.
Eleventh Census (1890) of the United States, Special Schedule, Surviving soldiers, etc. of the Civil War; ED 155, State of Nebraska, Lancaster Co., Lincoln, House 50, Family 50.
Memorial Day was originally known as "Decoration Day." It was proclaimed officially in 1868, with its observance set for May 30th. The graves of Union and Confederate soldiers were decorated, but the recognition now extends to all of those who served their country. New York was the first state in 1873 to recognize the holiday officially.