Photos courtesy of Museum of Danish America
As a RecordClick genealogist, I like to explore resources that prove helpful to genealogical researchers. When looking for the best research resources, I can't help but think of a scene from the movie Doc Hollywood, when the mayor of a small town admonishes Dr. Ben Stone (played by Michael J. Fox) to "Get off the interstate, Ben Stone!"
Recently I did just that, and I ended up finding a little genealogical jewel in Elk Horn, Iowa (pop. about 600). Elk Horn, incorporated in 1910 by Danish immigrants, is located less than an hour east of Omaha, Nebraska, on I-80, just a few miles north of the highway. In the late 1990s, area residents decided to honor their ancestors, and the idea of a museum was born. Home of the Museum of Danish America and Genealogy Center, the community is working hard to preserve its Danish heritage and be a resource for family historians researching their Danish heritage.
The Museum of Danish America is on the west side of town surrounded by Iowa cornfields. Exhibits do an excellent job of explaining the immigration process. There are three floors of artifacts and narratives. A highlight is the first piano owned by Danish musician and comedian Victor Borge. In a poignant letter, Borge tells the history of the piano and alludes to some of the indignities the Danes had to suffer during World War II.
And then there are the steamer trunks – those wonderful steamer trunks. Some are still showing the address of where the owner was going. Others are decorated with Danish designs. All had been filled with the few worldly possessions needed to start a new life in the United States or Canada. In a climate controlled room on the lower level of the museum, many examples of these kinds of possessions are neatly displayed on shelves. A Wall of Honor lists names, date of immigration, and the residence of a good number of Danish settlers.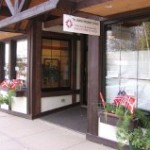 The grounds outside are landscaped in the style of Danish architect Jens Jensen. Jensen pioneered "The Prairie School" of landscape architecture using native plants. There are walking and bike paths, benches, and visiting circles enticing patrons to enjoy the out-of-doors.
The Museum of Danish America, however, is just the beginning. In the small business district of the town is the Genealogy Center. Although modest looking on the outside, its goal is big – to assist Danish genealogy researchers seeking family information both in this country and the homeland, and to help find lost relatives, both living and dead. Its holdings include:
Museum of Danish America's Wall of Honor files
Danish immigrant biographical files
Danish-American obituary collection
More than 800 volumes of family histories, biographies, and memoirs of Danish immigrants
Danish maps, gazetteers, and local history materials
Danish Brotherhood in America lodge membership records from 1881-1995
Several Danish newspapers
Often overlooked is the fact that not all of the Danish immigrants were Lutheran. There is a Baptist presence in Denmark dating back to 1839 and a Mormon influence as well. According to the 2000 Census, more than 200,000 individuals in California claimed to be of Danish descent. Utah followed with almost 145,000, and Iowa came in third with about 67,000.
The staff can assist genealogists in translating Danish documents, and the Center is affiliated with the Family History Library in Salt Lake City. Staff members have prepared a number of presentations for genealogical, historical, and ethnic societies.
For more information visit Museum of Danish America online,  as well as the Genealogy Center Library.
A good deal of Danish genealogical information has been placed online by the government. The expert genealogists and professional genealogical researchers at RecordClick can help you organize your information, assist you in your search, or create a video legacy of your family history. Share the history of your steamer trunk.