Professional genealogy research usually includes work with the census. The professional ancestry research will focus on the vital records that provide details on birth, marriage, children and death. For this RecordClick genealogist, there is one section of every U.S. Census that has been around an awfully long time and is frequently overlooked. This is the column that provides insight for the family history researcher and can hint at some very good stories.
The section: Occupation.
The first census that looked at Occupation was in 1820. The census takers made it plain, simple and basic. The question on the census asked whether the individual was involved in Agriculture or Commerce. If the respondent listed Agriculture, he or she probably lived on a farm. Those who answered Commerce mostly likely lived in a town or city. The 1850 census was the first census to name all individuals in the household and, for each, the occupation was listed. This column on the census should be noted by every genealogist.
Sometimes this professional genealogist feels like a broken record because I keep reminding family history researchers of the many clues in each census which lead to important information and insight.
If the descendants of Charles A. Lindbergh were to hire a genealogist, they would be able to get lots of information from their family history researcher from the census records.
Yes, the census records provide vague clues to Charles A. Lindbergh's best known accomplishment, which as many a genealogy researcher may recall, was his solo flight across the Atlantic Ocean in the Spirit of St. Louis in 1927.
Born in 1902, Lindbergh's childhood consisted of his parents separating and attendance at a number of different schools. While he grew up, however, so did the aviation industry and his eyes turned toward the skies.
In 1920, Charles Lindbergh was living with his mother in Morrison County, Minnesota. Although he was 18, no occupation is listed for him on the census for that time. In the 1920s, Lindbergh spent time studying the occupation that became his passion – aviation, although according to the 1940 U.S. Census, he is only listed as having one year of college.
During this period, airplanes began to change war, community, and business. With World War I, planes and pilots changed the nature of warfare. Communities began to notice planes with excitement when a barnstormer flew in. Many young men of the era with mechanical talent learned how to build an airplane. And, in people's lives and business, a system called "Air Mail" improved timing on movement of letters and packages from days to hours.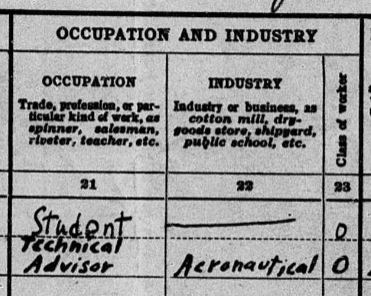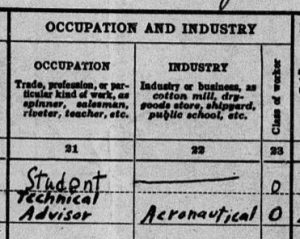 For a time, Lindbergh was an Air Mail pilot—not noted on the census. He then set his sights on conquering the Atlantic. By 1930, he had more than made a name for himself and was an "aeronautical technical advisor". On May 27, 1929, he married Anne Morrow (b. June 22, 1906, d. Feb 7, 2001), daughter of a businessman, ambassador and U.S. Senator Dwight Morrow and poet and women's education advocate Elizabeth Cutter Morrow. She had received her Bachelor of Arts degree from Smith College the year before.
Lindbergh's flying successes insured his financial future. Anne set a straight course on her career as well. She was his copilot for many flights and combined parenthood and writing which was her Occupation in the 1940 census. As for Charles, his Occupation was simply Aviation.


The couple was famous together and as also individually. Charles Lindbergh was the dashing pioneer whose occupation was AviatoAnne Morrow Lindbergh achieved much including becoming the first U.S. woman to get her glider pilot's license. Her Occupation included being a prolific writer of novels, poetry and inspirational volumes.
Each Occupation listed for them on the periodic Census provides only a glimpse of who they each became.
When you hire a genealogist, you will get someone whose job is to make your family's stories come to life through research and insight. The professional genealogy research provided by the genealogists at RecordClick will help you learn who your relatives were and what they did.