We've all heard it from our families, haven't we? It's Thanksgiving dinner or some other gathering of the clan, and the topic of our passion for genealogical research comes into the conversation. Someone looks disdainfully in our direction and asks the question: Why on earth would you want to spend so much time with dead people? Our hackles rise, hopefully, our temper does not, as we launch into all the reasons that this obsession with family history is such a vital part of our lives. I have often heard that the "genealogy bug" frequently skips a generation, or two. But wouldn't it be gratifying to share our love of our ancestors and their life stories with others in our family in such a tangible way that they are drawn in as well? A new product offering from RecordClick can do just that with the Legacy Book.
The old saying that a picture is worth a thousand words is timelessly true. When genealogists start enthusing about their latest find (Did you know that great-grandpa became a doctor but couldn't make a living and had to go back to cotton farming?), others may simply glaze over or change the topic of conversation. But, if you put an actual census image into their hands from 1900 listing great-grandpa's occupation as a physician, and then the 1910 census showing him as a farmer, those documents make great-grandpa more real, and the speculation about his career path will take off.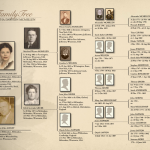 A Legacy Book allows family history researchers to bring together the documents and images of their ancestor search. Printed on high-quality, glossy paper, a typical book begins with a 5-generation pedigree. This is followed by the generations flowing back through the second-great grandparents. (Additional generations can be added as desired.) Included is a family group sheet for each ancestral couple, a timeline for each direct ancestor (set against a historical timeline of the major world events corresponding with that person's life), and all documents you wish to include, such as birth and marriage certificates, military documents, immigration, and naturalization records. The individual's information from images, such as censuses and passenger lists, is summarized off to the side of the document for easy consumption. Generational divider pages help keep the reader on track.
Your photographs, perhaps rescued from old albums and shoeboxes, help make the people and places of your ancestor search jump vividly to life. The layouts are all handled professionally, and a wide array of backgrounds help tell your family's stories. A limitless variety of images can be included: military medals, certificates, diplomas, letters, passports – anything that can be scanned or photographed can be included in a Legacy Book.
This product will pull in even the most skeptical family members; and often seeing the product being developed online inspires your relatives to get involved in family history research by cleaning out old drawers or closets, looking for additional photographs, documents, and other memorabilia to include. As the professional RecordClick Legacy Book producer is working on your book, you will have the opportunity to view the progress and request additions or changes.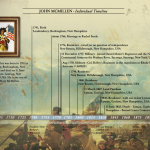 If you would like to preserve and present your genealogical research in a format that goes beyond the 3-ring binders and endless file folders, consider contacting RecordClick for a free consultation. Your loved-ones, now and in the future, will thank you for preserving the family history in such a vibrant, engaging fashion, and your Legacy Book will be proudly handed down through the generations, honoring those generations who went before. And when the next person asks you what on earth is so interesting about a bunch of deceased relatives, just hand them your Legacy Book and smile.