When you hire a genealogist you will quickly learn the benefits of how a genealogist can help you discover your ancestry. A good genealogist can really save you time and hassle by helping you with your journey rather than creating unnecessary road blocks. Here is a short guide on hiring a genealogist for your research needs.
Why Hire a Genealogist?
Even with the terrific online resources available to researchers engaged in family search genealogy, there is going to come a time when even the most seasoned family historian will throw up their hands and say, "I've hit a brick wall!" That is when you know it is time to hire a genealogist.
Why RecordClick?
RecordClick's professional genealogists are ancestor search specialists first and foremost. You can contact RecordClick any time for a free consultation to find out the best avenue and ancestor search specialist for your unique search. Our superb staff of international researchers can guide you as you pursue:
Extending and validating your family tree;
Finding your birth parents or a biological child;
Proving dual citizenship by descent (jus sanguinis);
Procuring documentation for legal proceedings;
Seeking new avenues of genealogical research;
Settling on the right path for your ancestor search that will yield results;
Delving into ethnicity based genealogy;
See our complete list of genealogy services here
RecordClick's search specialists are located throughout the world and can help you resolve tough questions regarding family ancestry mysteries. We cover not only the U.S., but extend our offerings to a number of European countries, as well as Canada and Australia.
Why Hire a Genealogist from RecordClick?
We are holistic: RecordClick offers a holistic approach to its family search genealogy services. Its comprehensive genealogy research services discover answers not only to large, but also to small ancestor search projects. No ancestor research project is too large or too small for RecordClick.
We are global: Our expert Ancestor Search Specialists are located throughout the world and can tap family history records domestically and globally. Whether our genealogists are tapping the extraordinary resources of the legendary Family History Library in Salt Lake City, Utah, or obtaining parish records from Ireland county locals to trace your ancestry, hiring a genealogist from RecordClick can solve mysteries concerning your genealogy tree, including immigrant ancestors.
We are forensic: Our Ancestor Search Specialists conduct research for situations requiring a stricter policy of proof, such as verifying heirs and beneficiaries for veterans' and pension benefits, supplying evidence for probate and estate cases, solving adoption cases, and locating the next-of-kin for unclaimed decedents.
We offer DNA genealogy: Family tree DNA is a major research resource in a genealogist's tool-kit. Sometimes DNA testing is the only way to solve a genealogy puzzle. In affiliation with Family Tree DNA, RecordClick makes DNA testing kits available to its online customers. It also works with world renowned genetic genealogy researchers who offer consultations to test-takers and provide help in translating results.
We are comprehensive: RecordClick also offers genealogical record look-up services, including, but not limited to obituaries, land deeds, military records, probates, wills, death indexes, marriage certificates, baptismal records, parish records, and social security death records.
We are diverse: Our family search genealogy professionals are well versed in locating documentation needed for lineage society membership; United States Colonial research; Jewish genealogy; Native Ancestry and Tribal Citizenship proof; as well as helping you locate living relatives.
We are affordable: Record Click's Ancestor Search Specialists offer affordable family search genealogy service packages that are personally designed for your specific needs. Cost of hiring a genealogist should NOT have to break the bank to find the family genealogy answers you need.
We go the extra mile: At the conclusion of genealogical research projects, RecordClick provides customers with an easy-to-read Project Report, which provides insightful information not only to you, but to your descendants. In addition to our ancestor search services, RecordClick's affiliation with Reel Tributes, a full-service production company, gives our customers the opportunity to have a video biography produced, memorializing your family's unique history.
Those are just a few reasons how RecordClick can help you with your family genealogy journey.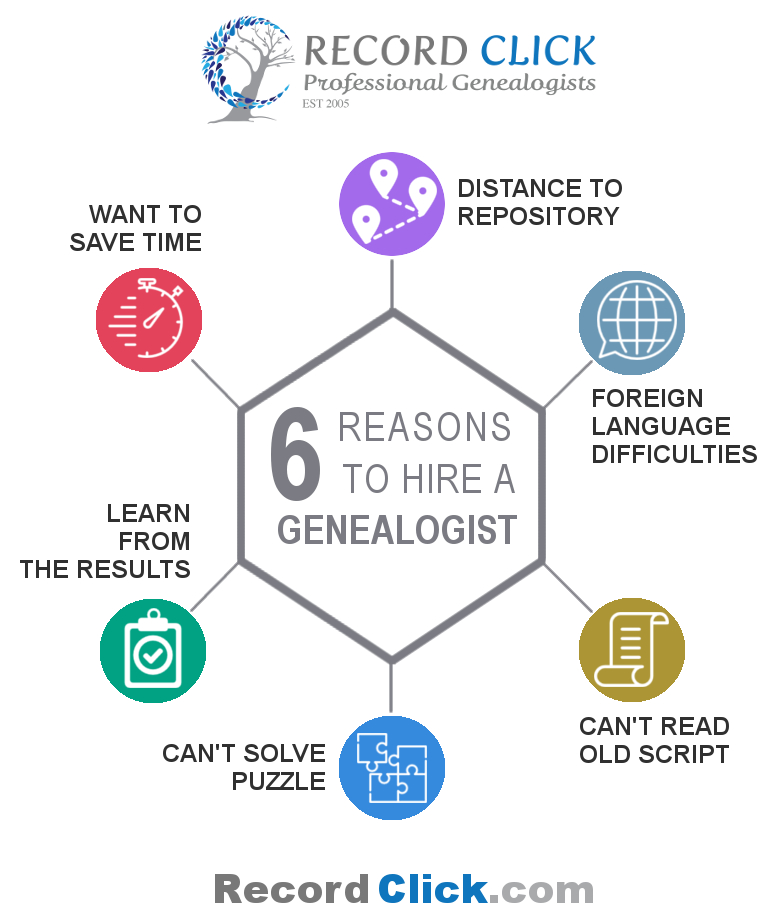 Order Genealogy Services
Going back in time to research your ancestors is an adventure, it's pure time travel deep into your past!
RecordClick's professionals will take you on a fascinating journey into your family's past, a journey that may surprise you, shock you, move you, but above all will bring you closer to knowing who you are.
Our Process
Once you have contacted us we will quickly connect with you to gather all required information for your research requests. This may include, collecting any previously found records, access to ancestry.com, GEDmatch details, and so forth.
Gathering all the details from you will help us generate a quote. Unlike other companies, we want to make sure we provide you with an accurate quote so you're not overpaying for unwanted research.
Great, we've generated a quote, you've reviewed it and we are ready to begin. We will issue you an invoice for the quoted amount and also generate an engagement letter. Our engagement letter will let you know exactly what we are searching and how you can participate in the research.
Payment is cleared, so we will create your account on our Research Suite. Our research suite allows you to communicate directly with our professional genealogist and it allows us to share all found records and details for your project in one central place. You upload/download documents at your leisure. You can directly ask questions regarding your research and provide necessary direction.
During the entire research process, our project manager will monitor the progress of your research. He/she will also help resolve any issues with your research. Such as not able to download a document or need help access your account or any displeasures you might be experiencing. Nevertheless, there is always someone here to help you with your research.
As mentioned, as your research is being conducted our professional genealogists will post results to your account in the Research Suite. Once your research is complete we will leave your account open for 30 days. During this timeframe you can download multiple copies of all found records.
After the 30 days has elapsed we will notify you that your account is being archived. We never delete any accounts, rather we archive them so if you need access in the future or if you want to continue with more research we can quickly start were we left off.
Our process is simple, convenient, cost effective, and allows everyone to focus on research.
Research Packages
We conduct research in hourly allotments. We've found that most research projects fits into 5, 10, or 20 hour allotments. Thus, we offer 3 research packages:
5-Hour Research Package
10-Hour Research Package
20-Hour Research Package
In many cases some research doesn't fit into one of the above stated packages. In which case, a custom quote will be generated.
I'm Ready; What's next
Great! If you're ready to begin simple use the order link above and get in contact with us. When you contact us, we'll make sure it is not complicated and we'll make sure you're happy each step of the way.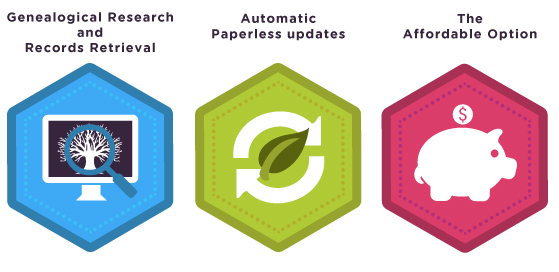 TAGS:
hire genealogist, hire professional genealogist, hire a genealogists, hiring a genealogist, hire genealogy researcher, hiring a genealogy researcher, genealogy researcher for hire