A genealogist is a browser – or at least one should be. Many a family history researcher will begin by looking for his or her names… the paternal, maternal, in-laws, possibly adopted… just to note a few. This RecordClick genealogist understands this because that is the way we need to begin our genealogy journey. But our families did not, usually, live on a deserted island or in an exclusive neighborhood of relatives. The residents came from someplace else and may have kept diaries or journals of their activities and business dealings. Or they may have written letters to friends and family. Who exactly did they associate with? What did they think?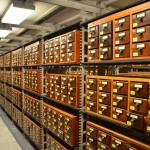 Are these materials online? Don't bet on it.
But they might be in a library!
That is how this genealogist began browsing around the Library of Congress. It is, of course, one of the best repositories of information in this country. Available to the genealogists and to every genealogy researcher is the library's vast collection of books, periodicals, photographs and maps. The National Archives are home to the government documents – census records, military records, and homestead records, just for starters. The Library of Congress (and other libraries and historical societies in this fair nation) houses personal records and organizational records for thousands of people and groups dating back to before the Revolutionary War.
The variety of the records a genealogist may find at the Library of Congress boggles the mind.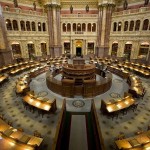 Examples include:
Carl W. Ackerman; 1833-1970; 60,000 items. Ackerman was a journalist and dean of the Columbia School of Journalism. Library holdings include correspondence, diaries, speeches, writings, family papers and scrapbooks relating to his career.
C.S. Draper; 1773-1978; 16,800 items. An engineer, inventor and educator, Draper was a professor of aeronautical engineering at Massachusetts Institute of Technology. Available to researchers are speeches, writings, family and personal papers dating back to 1773.
T.H. Gallaudet and Edward Miner Gallaudet; 1806-1958; 2,700 items. Both are educators associated with the founding of Gallaudet University in Washington, D.C. Holdings include correspondence, diaries, journals, genealogical information and resources on their founding rolls in the education of the deaf.
National Urban League Records; 1900-1988; 616,000 items. Based in New York City with roots going back to the early 1900s, the nonpartisan civil rights organization was originally known as the "National League on Urban Conditions Among Negroes". The Library of Congress is the care-taker of correspondence, scrapbooks, financial and legal records of the group.
The Panama Collection; 1804-1977; 12,700 items. Information was collected by the Canal Zone Library – Museum in Balboa Heights and includes material concerning the planning and construction of the Panama Canal and business and cultural aspects of the Canal Zone. Correspondence, diaries, memoirs, financial and legal papers are part of the collection.
Margaret Sanger; 1900-1966; 130,000 items. A nurse and author, Margaret Sanger is best known for being an early leader of the birth control movement. Holdings include correspondence, diaries (1914-1953), scrapbooks and memorabilia.
Billy Taylor; 1942-2004; 150,000 items. Taylor was a jazz pianist, composer and educator. The Library of Congress is home to his musical manuscripts, correspondence, clippings and scripts.
Joseph Meredith Toner; 1741-1896; 237,000 items. A physician, author and collector, Toner provides insight into the history and practice of medicine in the United States during the life and times of George Washington. Holdings include correspondence, a diary, notes and lists.
Walt Whitman; Three collections (actually there are more, but I'm only listing the largest). Walt Whitman papers, 1837-1957, 150 items. This collection includes poet Walt Whitman's correspondence, family papers, and letters exchanged with Abraham Leech, Whitman's earliest known correspondence. Thomas Biggs Harned collection of Walt Whitman papers, 1842-1937, 3,000 items. Lawyer Harned was a literary executor of Whitman's estate. The collection includes correspondence and material relating to various aspects of Whitman's career. Walt Whitman papers in the Charles E. Feinberg collection, 1763-1985, 28,000 items. Feinberg was a collector amassing diaries, notes and notebooks of Whitman. Other individuals represented in the Feinberg collection include Richard Maurice Bucke, John H. Johnston, William Douglas O'Connor, and Horace and Anne Montgomerie Traubel.
For the genealogist: to find an index of the personal papers of the Library of Congress, on the right-hand side of the home page click on Library of Congress Online Catalog. On the next screen, the genealogist should click on "Archival Finding Aids" and go from there.
Many libraries and historical societies are the repositories of some type of personal papers or correspondence. Begin first with a library that makes geographical or professional sense, keeping in mind that, for whatever reason, the documents may wind up in a different place. Also, keep in mind that an ancestor may not be the subject of the item or article, but mentioned in passing. Perhaps he or she was a neighbor or had a shared interest.
Many a genealogist, myself included, appreciates indexed materials. Legal documents are more likely to have an index. When searching through diaries and personal correspondence, don't expect an index or a transcription. Do a happy dance if the item has either! The family history researcher can find out who an ancestor's neighbors were and what happened to them. The genealogist can find out if they were members of a fraternal organization. The ideas a family history researcher can have in this library are limitless. Don't be afraid to browse, but be prepared to spend some time reading old handwriting– with no guarantee of success.
Taking time to browse can be part of the research regimen for every expert genealogist at RecordClick. We develop research strategies to find illusive information. With family history researchers at a number of locations, we search for those special documents that create a unique and special family history for you.