This RecordClick genealogy services provider has been a fan of Ricardo Montalban since childhood. I always loved watching him as Mr. Rourke in television's Mr. Rourke in Fantasy Island and as villain Khan Noonien Singhin in StarTrek . He was such a gentleman with just the right amount of that wonderful Spanish accent.
When my genealogist mind ponders the life of Ricardo Montalban, I think about his Mexican heritage and then, I begin wondering about America's border with Mexico.
And here is the genealogy question: When did immigration records for individuals entering the United States develop?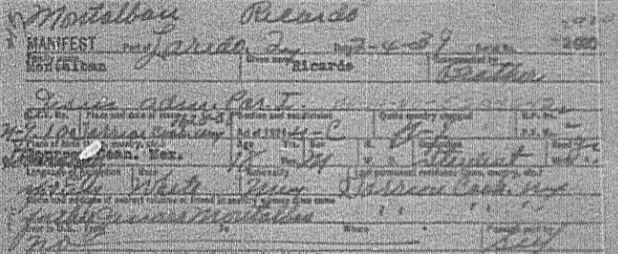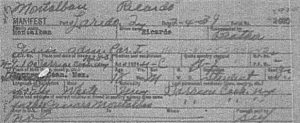 Let's begin with this professional genealogist's favorite.
Ricardo Montalban was born in Mexico City in 1920, He entered the United States from Mexico in 1939.
There. That's the easy part of the story.
To get the rest of the story, each and every genealogy services provider needs to understand something about immigration laws and practices and how they have changed over the years.
Here is the National Archives timeline in its discussion of "Mexican Border Crossing Records":
1819 – Legislation required the captain or master of a ship arriving from a foreign port to submit a list of passengers to the collector of customs.
1882- Congress passed the first federal law regulating immigration. It was administered by the Secretary of the Treasury.
1891 – The Office of Superintendent of Immigration in the Dept. of Treasury was established.
1903 – The Bureau became part of the Dept. of Commerce.
1906 – The name was changed to the Bureau of Immigration and Naturalization. Records of arrivals began to be kept at the Mexican border.
1933 – The functions of the Bureau were transferred to the Dept. of Labor and became the Immigration and Naturalization Service (INS).
1940 – The INS was moved to the Dept. of Justice. The legislation required foreign nationals to register.
2003 – The INS was abolished and functions moved to the Bureau of Citizenship and Immigration Services within the Dept. of Homeland Security.
As you ancestry researchers likely know, this important U.S.-Mexican border is almost 2,000 miles long. It runs from Brownsville, Texas to Tijuana, Mexico.
Ricardo Montalban first began his acting career in Mexico. He then decided to join an older brother, Carlos Montalban, in the U.S. Brother Carlos also had a long and productive acting career. Carlos' film appearances ranged from Flying Down to Rio in 1933 to Woody Allen's Bananas in 1971.
Ricardo Montalban had a long a productive stage, film and television career, also. In 1949, he even played a border agent in the suspense drama Border Incident and starred opposite Shelley Winters in 1952's My Man and I as a Mexican immigrant.
Border crossings are more difficult for a genealogy services provider to search because there are usually no ship or flight passenger lists. A card system was developed to obtain information for those individuals entering the U.S. on foot or by car. Immigration and Naturalization documents should, if possible, be a part of the work of every genealogy services provider.
Often, finding the records and figuring out what it all means gets complicated.
When seeking border-crossing information as part of your family history, the professional genealogists at RecordClick can help you. When you hire a genealogist from RecordClick, you will have an experienced genealogy professional who understands the immigration laws and regulations.
You will be getting a genealogy services provider with the right set of tools. This way, your journey toward finding your family tree can become a reality and not just a trip to one of those fantasy islands.