Hey Genealogist! It's that time of year again. The red carpet was rolled out. Glitz and glamour will took over for the night. Every genealogist (and millions of other viewers) heard family and fellow professionals in the entertainment industry thanked by the winners of that special gold statue – Oscar.
Few people can say they have seen one up close – but this genealogist has. And it's neither been in Hollywood nor in some well-known repository. I've seen it in the unassuming Saunders County Museum in Wahoo, Nebraska.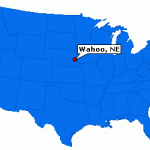 There, Oscar is well taken care of and protected.  But who would have thought? How might such an important award wind up in such a small place? (The population of Wahoo is less than 5,000, after all.)
This story is a good one.  For the genealogist, it's a wonderful tale in support of looking beyond the obvious.
The Oscar in the Saunders County Museum is one of three won by film producer and studio executive Darryl F. Zanuck. Born in 1902 in Wahoo, Nebraska, Zanuck won Oscars for:
1941, "How Green Was My Valley"
1947, "Gentleman's Agreement"
1950, "All About Eve"
As a good genealogist knows, the story begins with a family. Darryl Zanuck's parents were Francis H. "Frank" Zanuck and Sarah Louisa "Louise" Torpin. Both were born in Iowa, although Louise's family lived for a time in Illinois. In the 1870 U.S. Census, Frank is 9 and is the third child in the Dubuque, Iowa, household of Jacob and Agnes Zeunck. In the 1880 U.S. Census, Sarah L. is the second and youngest child in the Rock Island County, Illinois household of Henry and Anna Torpin. Both families moved and, at some point, Frank and Louise met and married.
By 1900, the Frank and Louise as a couple had moved to Elgin, Antelope County in the northeastern portion of the State of Nebraska:
Zanuck, Frank H.Head   b. Feb. 1862        38 years old        m. 7 yrs               IA            Switz     Ger
Louise                   Wife      b. June 1870       29                        m. 7 yrs 1-1         IA            Penn     Penn
Donald                  Son        b. Feb. 1894        6                                                        Dacota    IA            IA
Frank was a clerk in a grain office. Louise's parents, Henry and Anna were living in Oakland which is some ten miles away where Henry was a grain dealer. Conveniently, there was a train between Elgin and Oakland.
By the time Darryl was born in September of 1902, the family had relocated, yet again. Home was now Wahoo, Nebraska , and Frank worked as a clerk in a hotel. Louise seemed to desire a life somewhere other than Nebraska. In 1910, she and Darryl were in Los Angeles – without Frank:
Zanuck, Louise T.              Head     33           m1. 17 2-1           Iowa      Penn     Penn
Darryl F.                              Son        7                                           Neb       Iowa      Iowa
One of the questions a genealogist should be asking about now is: What happened to Donald? The grave of Donald Torpin Zanuck, b. 1893, d. Jan. 6, 1903 is found in Oakdale Cemetery, Antelope County, Nebraska. It's not far from where the Zanucks were living in 1900. Never a large place, Oakdale had a population of 585 in 1900. It was, however, large enough to have a weekly newspaper. A headline on the front page of the January 10, 1903 edition of The Oakdale Sentinel reads: "Little Donald Zanuck Is Dead". This genealogist loves small town weeklies – so many of which are not online.
Here is the article:
"Died: On the night of Monday, January 5, 1903 at El Paso, Texas, Donald Zanuck, aged 8 years and 11 months. Funeral services will be held on Sunday, January 11, 1903 at Wahoo, Neb.
"Between two and three months ago Donald suffered from an attack of whooping cough. Later pneumonia developed, and it was to this disease and its complications that our dear little friend finally succumbed. About two weeks ago, by the advice of his physicians who held this out as the last, forlorn hope, the little wasted form, clinging so tenaciously to life, was removed to El Paso, Texas, but death was there to claim its victim.
"Donald was raised in Oakdale. Here nearly everyone knew him, and all who knew him were drawn to him by his bright, vivacious mind and affectionate disposition. His death brings an overflowing cup of agony not only to the father and mother, but to the grandparents, Henry Torpin and wife, to whom he was light and life…"
Also buried in the Oakdale Cemetery are Donald's (and Darryl's) grandparents and Louise's parents, Henry and (Anna) Maurine Torpin.
Sometime between 1900 and 1902, Frank and Louise Zanuck relocated from Antelope County to Wahoo in Saunders County, Nebraska. The family became a part of the community – in 1900, Wahoo had a population of 2100. Darryl became a favorite son of Wahoo, even after the Zanuck's settled for the last time in California and he had found fame and wealth in the entertainment industry.  The Zanuck family remembered their roots and presented one of Darryl's Oscars to the Saunders County Museum in Wahoo.
The genealogist and family history researcher takes us to places where we find unexpected treasures. RecordClick's staff of professional  genealogists develop research strategies and find the stories of your life.