In recent blogs, this RecordClick genealogy researcher has attempted to explain these two questions:
What is a source?
Why are primary sources are important?
Yet, what better way to answer these questions than to cite an example?
In doing so, this genealogy researcher is going to break one of my own rules. I am not listing precise sources to protect the guilty. I am, however, going to borrow comedienne Carol Burnett's family for just a bit.
This genealogy researcher is not going to pass judgement on what has been posted online, but I am going to interject a few questions.
My premise is going to be from information on Carol Burnett's birth certificate and the 1940 U.S. Census. Common knowledge is that CarolBurnett was born in San Antonio, Bexar County, Texas. According to the image of her birth certificate found on FamilySearch (Texas Birth Certificates 1903-1935), she was born April 26, 1933. Her father is listed as Joseph Thomas Burnett age 26 of 3301 West Congress St.  He was an insurance salesman, born in Belton, TX. Her mother is listed at Ina Louise Melton, age 22, of the same address, born in Bellville, Arkansas.
Carol is found in the 1940 U.S. Census in San Antonio, Bexar County, TX; ED 259-55; Sheet 7-B; Household 163 located at 3301 W. Houston; Lines 52-54:
52           Jones, Dora        Head     82           b. Arkansas         Lived in the same house 5 yrs. Previous
53           White, Mae        Dau        54           b. Arkansas         Lived in Santa Monica, CA 5 yrs. Previous
54           Burnett, Carroll Ggrandd  7          b. Texas               Lived in Santa Monica, CA 5 yrs. Previous
The information found by this genealogy researcher included in an online family tree for Carol Burnett:
Sources:
1940 U.S. Census
An internet web site family tree
Texas Birth Index, 1903-1997
S. Public Records Index, 1950-1993, Vol. 2
In information relating to Carol's mother, Ina, her parents are listed as William Rufus Creighton (1878-1951) and Mabel Eudora "Mae" Jones (1885-1967). A timeline was given for Ina:
1911 – Born in Arkansas
1920 – Living in San Antonio, listed as a granddaughter in a household
1924 – Married Joseph Burnett, San Antonio, Texas
1933 – Birth of daughter
1951 – Death of father in Drew, Arkansas
1954 – Death of husband in Los Angeles
1958 – Her death in Los Angeles
Now, genealogists, first of all, the only primary source document listed is the 1940 Census. Carol Burnett's birth certificate, also a primary source document, is online at FamilySearch. Indexes should be considered secondary resources. An internet web site family tree is a tool – not a source.
In the time line, genealogy researcher, what is the first indication that there may be some issues? Wouldn't the astute genealogist question Ina's 1924 marriage, especially if she were born in 1911? No marriage record for Joseph and Ina is listed as a source of information. A quick 1930 census search found no listings for a Joe or Joseph Burnett married to Ina in Texas.
The next question has to do with the 1920 entry. The 1920 U.S. Census is not listed as a source. I found an 8-year-old Ina listed as a granddaughter in a household in San Antonio that fits with the information provided online. The family is listed in San Antonio; ED45; Sheet x-21B; dwelling 316; family 338;  lines 63-68:
63                 Janes,FerdinandHead     65           Married                Ark         TN          TN
64                 Flora                      Wife      63           Married                Ark         SC           SC
65                 Mary E.                 Dau        30           Widow                  Ark         Ark         Ark
66                 Lester L.                Son        24           Single                    Ark         Ark         Ark
67                 CreigtonMary E. Jr.Gdau  13           Single                    Ark         PA          Ark
68                 Ina L.                     Gdau     8              Single                    Ark         PA          Ark
Sometimes, enumerators are gracious to the genealogy researcher. In this case, a genealogist may surmise that Mary E. Jr. is the daughter of Mary E. and that Ina L. is her sister. Mary E. is listed as a widow, which doesn't fit with the timeline listing the death of Ina's father in Los Angeles in 1951. The fact that the married name of Mary E., 30, widow, isn't listed should also raise a genealogical eyebrow or two. In the 1920 census, Ina's grandmother is Flora. In 1940, her grandmother is listed as Dora. Who is and what happened to Ina's older sister, Mary? There could be some clues there.
Finally, genealogy researcher, let's go back to Carol Burnett's birth certificate. Now, let's ask: who was Ina Melton? I did find an Ina Melton in the 1930 census that somewhat fits the description of Carol's mother. She was 19, married to Ollie Melton with a son Roy and was living in Rains County, Texas. Rains County is not far from Arkansas, but up the road apiece from San Antonio. Could there be a connection? What happened to the Ollie Melton family? How did Carol Burnett's parents meet?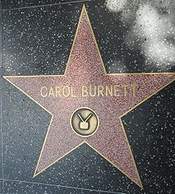 Carol Burnett has said she had a mixed-up family. At this point, I have to agree with her. The genealogy researcher will note that more questions need to be asked. More primary source records need to be found by astute genealogists.
When you hire a genealogist from RecordClick, you'll find that we are good at asking the right questions. The RecordClick genealogist will get the best family history information for your ancestry search. We regularly work with complicated families and help you understand the simple, complex and unique situations of your family tree.