23andMe and AncestryDNA are among the best DNA testing companies globally for their positive reputation in revealing information about genetic traits, family history, and ethnic makeup. Although the two companies follow a somewhat similar process, their unique services offer different overall experiences.
When comparing AncestryDNA vs. 23andMe, the primary determinant is your interest. What do you want to achieve through your DNA test? Is it your haplogroups, ethnic estimate, finding relatives, health screening, etc.?
This guide explores every category pursued by 23andMe and AncestryDNA to help you determine which is best for your case.
Key Takeaways
The best company depends on the reason for your DNA test.
Common reasons for a DNA test include establishing an ethnic estimate, finding relatives, and health screening.
AncestryDNA and 23andMe are great at what they do, but the former focuses on genealogy, while the latter expertly provides insightful health data and possible disorders in your family line.
Types of Tests
Understanding the type of tests to conduct for your endeavor is a massive stride in determining whether to use AncestryDNA or 23andMe. While AncestryDNA only offers autosomal tests, 23andMe extends to the YDNA and mtDNA haplogroup reporting.
The Autosomal DNA Test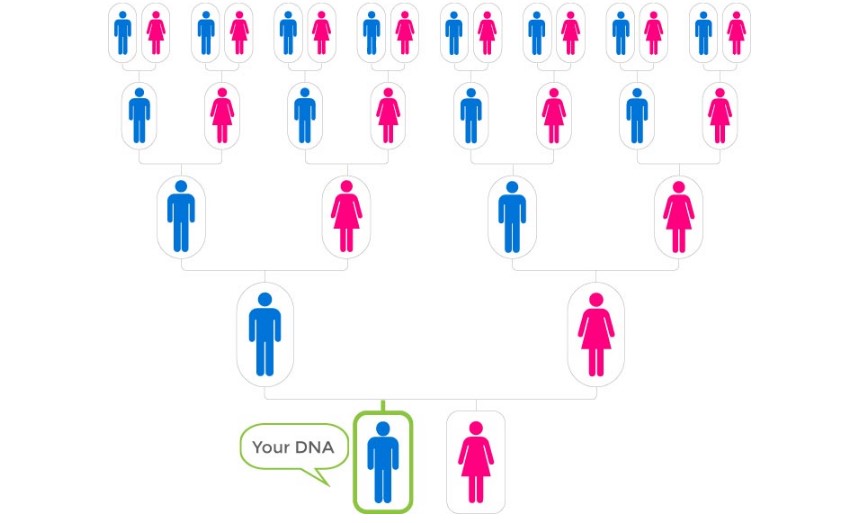 The Autosomal DNA test is standard across DNA testing companies. The basic test focuses on the ancestral line of your DNA and can estimate ancestors and ethnicity from a few hundred years back. Any person can undergo the autosomal DNA test to establish relations and ethnicity.
The YDNA and mtDNA Tests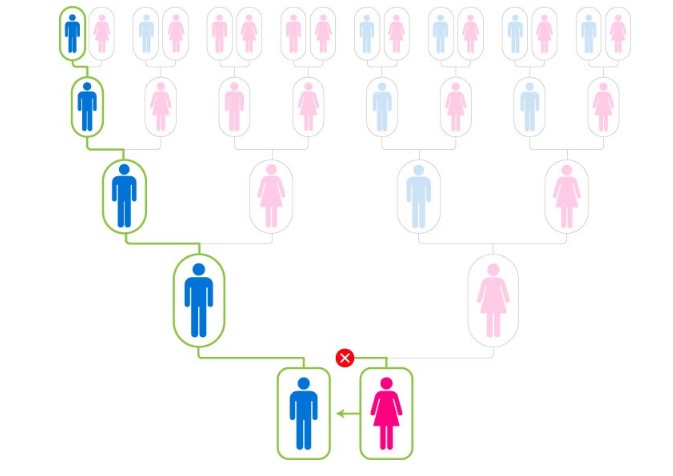 On the other hand, the YDNA is a test that only focuses on the Y chromosome of your DNA, which means that it helps establish your paternal line. While the test also helps unearth your ancient roots and ancestors, they only follow a single branch of your family tree. With your permission, 23andMe can dig thousands of years back and present its findings as a haplogroup. These results can also help you determine whether you're related to another person with whom you share a surname.
It's worth noting that women may not undergo the YDNA test since they lack the Y chromosome. However, they can request a male relative, i.e., brother, father, or cousin, to take the test on their behalf.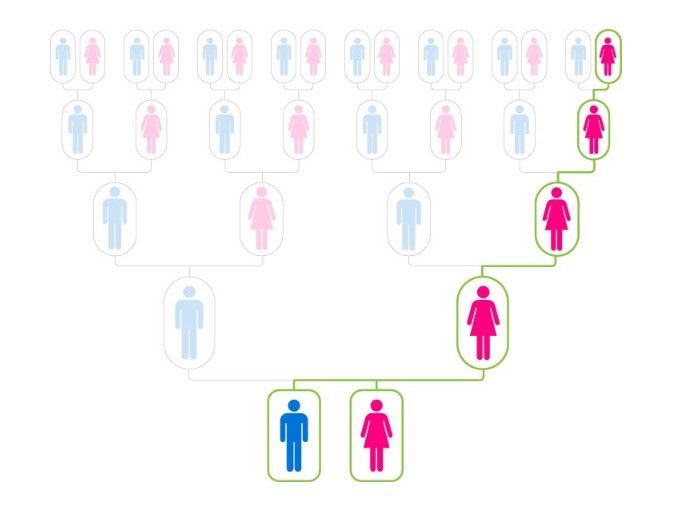 On the flip side, the mtDNA test focuses on the maternal line. In this case, both males and females can participate since they both have the DNA.
So, if you want more accurate reporting than just autosomal testing, the best testing option for you would be 23andMe.
DNA Reports
Another factor to consider when deciding your best testing site is the DNA reporting they offer. AncestryDNA and 23andMe have different reporting methods, especially in advanced subscriptions. Both sites need your consent on how you want them to handle your results. You can allow them to store your results for future purposes or use your results to conduct further studies. For those who want to find matches through the results, 23andMe and AncestryDNA will let you hide or share certain information with other users you match with.
Ancestry DNA Reporting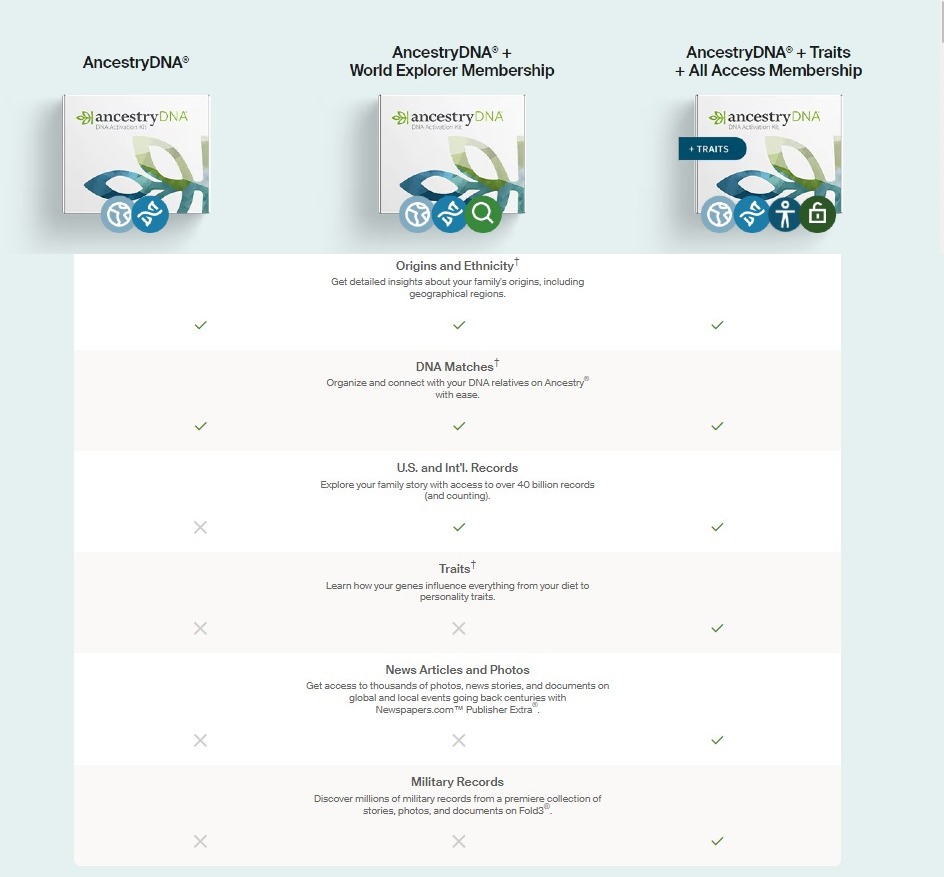 Ancestry provides an interactive feature on your account on the information acquired from your DNA. The dashboard maps your ethnicity estimate, DNA matches, and a possible place of origin.
Notably, the site updates information as it acquires more reference samples and improves the tools. Some of the records and data to access will depend on your subscription.
AncestryDNA has three subscription options. The first subscription is the original version for $99 and provides detailed insights about your family's origins, including geographical regions. It also organizes and connects you with your DNA relatives on the site. This kit only uses information from the U.S. database.
The second AncestryDNA subscription is the World Explorer Membership, which grants access to over 40 billion international records at $100 in addition to all the features in the original version. This subscription also had the AncestryHealth Report, which AncestryDNA discontinued in 2020.
The All-Access Membership is the third and top-most AncestryDNA package at $199. In addition to all the features provided in other subscriptions, the All-Access kit grants access to Newpaper.com, yearbook archives, census reports, photos, and Fold3, which adds billions of historical data sources. The kit also explores over 30 traits, including muscle fatigue, vitamin levels, and eye color.
23andMe DNA Reporting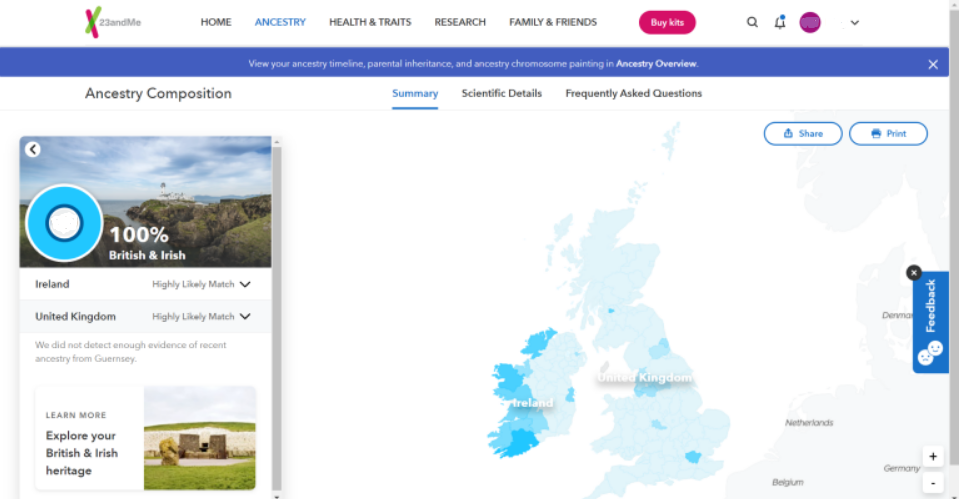 Categories in 23andMe DNA reporting include Maternal and Paternal haplogroups, Ancestry Composition, DNA Relatives List, and Neanderthal Ancestry. The site has an ancestry composition page with data and maps to interact with for more details. The data you receive from your test will depend on your choice among the three 23andMe subscription options.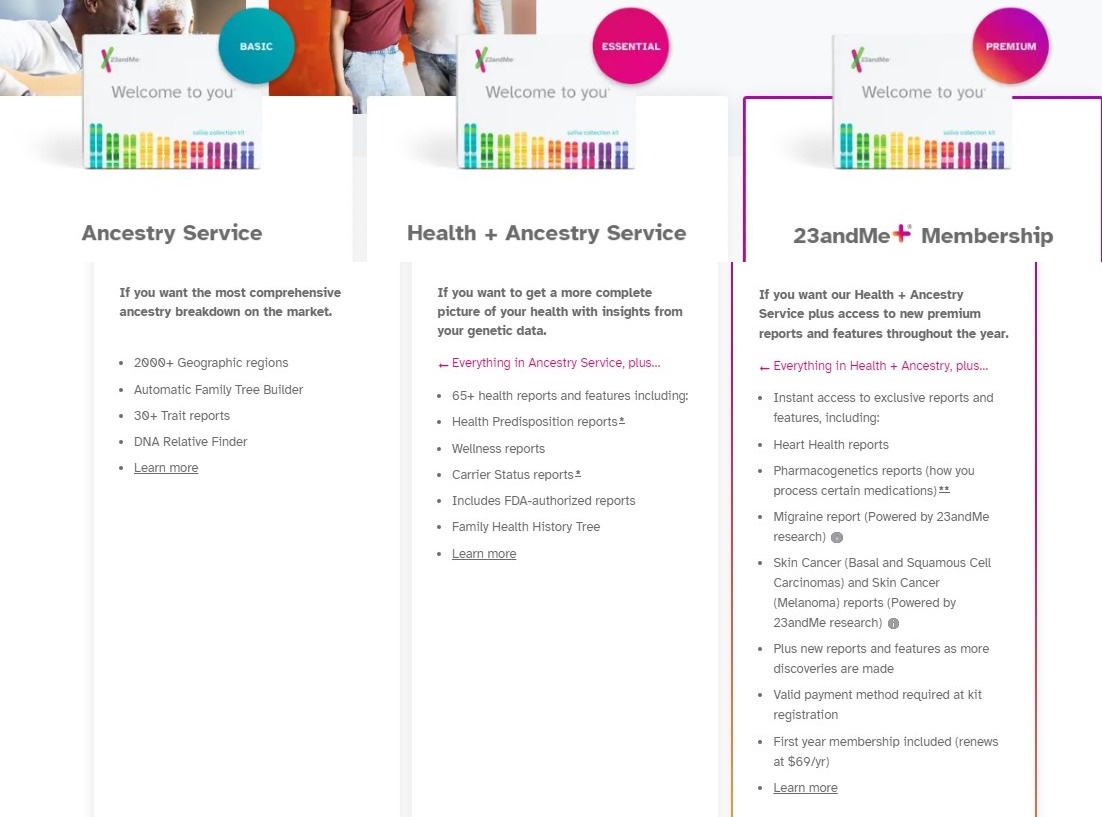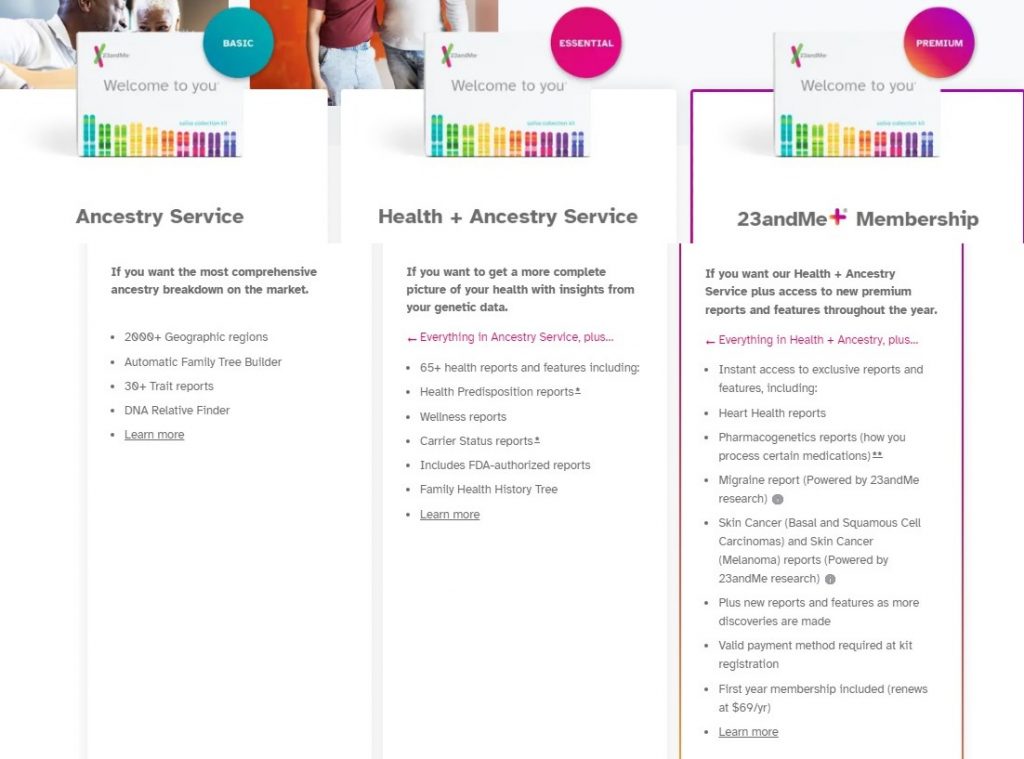 23andMe's basic subscription is the Ancestry + Traits at $99, which offers Automatic Family Tree Builder, 30+ Trait reports, and DNA Relative Finder in over 2000 Geographic regions.
The second 23andMe subscription is the Health + Ancestry Service at $199, covering everything in the Ancestry + Traits subscription and adding 65+ health reports and features, including Family Health History Tree and FDA-approved Health Predisposition reports and Carrier Status Reports.
The third subscription is the Membership kit with the best features from 23andMe. The kit costs about $200 and an annual fee of about $70. In addition to accessing all the features in the previous two packages, the subscription has more personalized reporting, mainly on health. Some of the essential reports you will get in this subscription include Skin cancer reports, migraine reports, heart health reports, pharmacogenetics reports, and more reports as the site makes discoveries.
Finding Your Relatives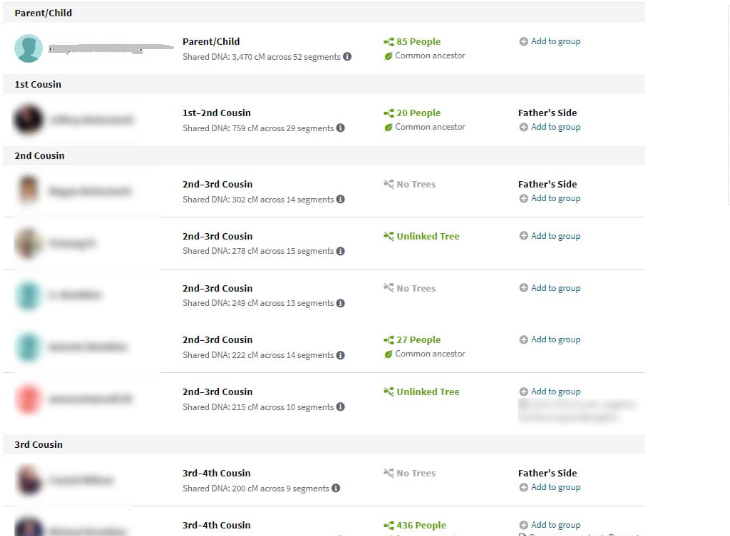 The choice is clear-cut if you want the best site to connect you to as many relatives as possible. While you can't be guaranteed to find all your relatives, you'll have a chance to connect with those who have shared a matching DNA to the site. AncestryDNA is a clear choice here because its users value genealogy over health. It is rare to find 23andMe users willing to share their genetic information to connect with others publicly.
Ancestry is a family tree software that helps you structure your genealogy on a simple chart or diagram. The site has the ThruLines feature incorporating private and public family trees to help establish common ancestors with other users. The site also uses non-DNA ancestry data to help establish your relatives among its 21 million+ users.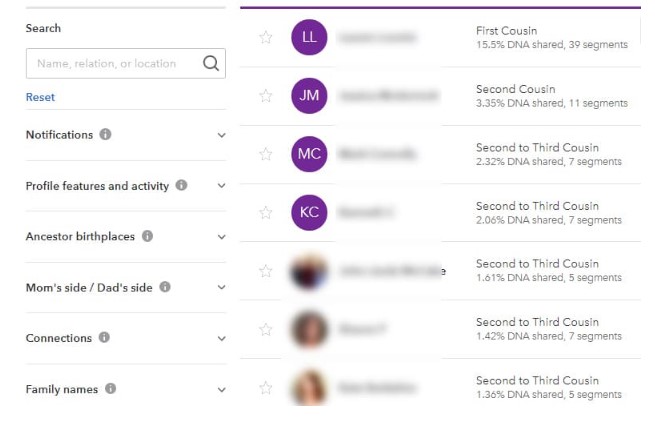 23andMe also helps find user DNA matches, but you must opt-in for the program. The major downside of using 23andMe to find matches or relatives is the scant database of about 2 million samples. The minute user base makes it less likely to connect with contemporary relatives than AncestryDNA.
Genetic Health Screening
If you want a DNA test with reliable reports about potential health problems, 23andMe is far and away the best site out there. Of course, AncestryDNA will conduct excellent DNA testing, but it's more focused on finding matches or building a family tree. On the contrary, 23andMe has robust health-testing capabilities and rich reports regarding your genetics.
Members who used AncestryDNA's Health Report during its brief lifespan received downloadable results about their nutrient levels and status for certain diseases. Now that AncestryDNA no longer offers the service, it leaves 23andMe as the only genetic testing company that lets you view FDA-approved DNA-based health screenings.
Carrier Status
23andMe offers four different health reports starting with the Carrier Status Report. As the name suggests, this report provides a detailed analysis of your X-linked recessive genes that can help predict the possible impact of your genetic mutations on your descendants. Some genetic disorders screened in the report include blood disorders, Cystic Fibrosis, Sickle Cell Anemia, and Muscular Dystrophy.
Health Risk Report
The second report conveys information that affects you. The Health Risk Report examines your autosomal dominant genes to detect any disorders or diseases to which you are susceptible, including Parkinson's and Alzheimer diseases. Such information can help you make the right choices with your primary care physician.
Trait Report
23andMe's third report details information about the physical appearances of you and your children. This report helps you predict your children's appearance and identify cases of possible curly hair, fleckless, dimples, etc.
Wellness Report
Finally, the Wellness Report provides a more generalized health profile, including insights about your Body Mass Index, sleep quality, lactose intolerance, etc. Most users have relied on these reports to improve their well-being by exercising more frequently and adjusting their diets for better results in the long run.
It is worth noting that these tests are NOT a medical diagnosis and do not rule out or guarantee future health conditions.
Let Your Intentions Guide You
AncestryDNA and 23andMe are great at what they do. So, all you need is a reason behind your DNA testing, and the choice will be clear. While both companies offer fascinating insights about your genetic makeup and ancestry, the best for you will depend on what you want to get out of it.
Thanks to its expansive archive and user base, AncestryDNA is the better choice to examine family ancestry, including ancestral migration history. However, if you're looking for health data and possible disorders in your family line, consider 23andMe. The site's FDA approval makes it even more reliable in relative matching and conducting an in-depth analysis of your paternal or maternal origin, thanks to the YDNA and mtDNA tests.