This RecordClick genealogist has survived Black Friday, Cyber Monday and newspaper ads galore… not to mention the celebration of holiday reruns on television.
And now, the Christmas countdown is on.
One of the venerable entertainers who has become part of holiday time in America for this genealogist is Andy Williams. He had a network variety show for a number of years in addition to Christmas specials. His relaxed style of singing makes the season slow down just a little bit and makes me want to sit by a fire with a cup of hot chocolate. Every now and again, he mentioned his small town beginnings in Wall Lake, Iowa. I thought it might be fun to dip our genealogist toes into Wall Lake to take a peek at his family.  Here is ancestry chart:
Andy Williams b. 1927, Iowa d.2012, Missouri
Jay Emerson Williams b. 1892, Iowa, m. 1916, Iowa d. 1976, California

Gilbert Emerson Williams b. 1866, Iowa, m.1891, Iowa, d. 1941, Iowa

George Williams
Ellen Bailey

Louisa Ripke b. 1869, Germany, d. 1928, Iowa

August Ripke
Elizabeth Woodruff

Florence Belle Finley b. 1892, Iowa, d. 1979 , California

Louise Jane Robinson b. 1857, Illinois, d, 1922, Iowa
Samuel Robinson
On various television programs, Andy Williams talked about how, when he was growing up in the 1930s, he and his brothers sang in the local Presbyterian Church. Sometimes, he mentioned how his parents took the brothers to area radio stations to entertain. The information he revealed isn't a lot for a genealogist to work with.  But, in this case, it's enough for this professional genealogist.

Even though Wall Lake is small, it is still affected by national and world happenings. Between the Depression and the Dust Bowl, times were tough. In the 1920 U.S. Census, Williams' father, Jay, was a railroad mail clerk. By 1930, Jay had a job handling the mail for the U.S. Post Office. Although the pay may not have been great, working for the post office provided a steady income. Jay, his wife, Florence, and sons, Robert, Donald, Richard and Howard (Andy) lived with Florence's father, Andrew Finley. It must have been a lively household.
Yet, to get a full understanding of the Williams family, the genealogist needs to look at their place: Wall Lake, Iowa.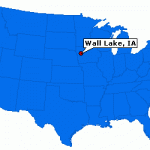 Iowa became a part of the United States in 1846. At that time, travel was either over land or by the Mississippi or Missouri Rivers.  Because of this, the state's first organized counties were close to the rivers. Settlers came looking for new opportunities and, in 1851, Sac County was organized.
The genealogy researcher will see that Sac County is located in the northwestern part of the state. There, farmers found the land fertile and good for crops. After the completion of the transcontinental railroad in 1869, transportation to the area improved and the train became the preferred method for westward movement. While the main line was being constructed, passenger service was available to take settlers to whatever was the end of the line.
Soon after, companies formed to extend railroad tracks to rural areas. New towns were platted to take advantage of expanded railroad service and, in 1877, Wall Lake was established in Sac County, Iowa.
By 1900, the town was a thriving agricultural community with a population of just over 600 people. The numbers increased to 750 in 1930 and about 800 in 2010.
With invention of the automobile in the late 1800s, transportation changed again, as the genealogy researcher will see from national and local historical records. Roads were built and improved to accommodate the increased popularity of the automobile. By the 1930s, train ridership declined and passenger service to many rural communities ceased.
Communities like Wall Lake took pride in taking every opportunity to promote their businesses, churches, schools and life style which leaves many records for the genealogist to review now. Beginning in the 1870s, weekly newspapers that reported on international, national and local activities were an integral part of small town life. Wall Lake had a newspaper beginning in 1878.
The genealogist will see that Andy Williams' ties to Iowa go back at least a generation beyond his parents. His grandfather, Gilbert Emerson Williams, was born in Iowa in about 1866. In the 1880 U.S. Census, Gilbert is listed with his parents, George and Ellen, and siblings Wesley and Cora in Marion County southeast of Des Moines. George was a coal dealer. Gilbert, 12, had finished his education and was working as a farm laborer.
According to the 1900 U.S. Census, Andy Williams' maternal grandparents, Andrew and Louise (Jane Robinson) Finley, moved to Iowa before 1890. The genealogy researcher will see that in the census, the family was living in Wall Lake and Andrew owned a livery barn.
A genealogist researcher should know how important the FindAGrave website is. One of the reasons  this genealogist likes it is that, as a family history researcher, I never know what someone might have posted about  a deceased individual.  In this case, a number of obituaries were added to members of the Finley family. This genealogist found particular interest in a newspaper clipping that reported the death of Louise (Jane Robinson) Finley. On the FindAGrave site, the name of the newspaper isn't cited, but because of the length and contents of the item listed, this genealogist would most certainly research and check the local newspaper first.
There, the genealogy researcher has numerous details confirmed. Louise Finley, Andy Williams maternal great grandmother, died in 1922 and was considered an early settler of the area. The Finley family moved to Wall Lake, Iowa in 1881. Louise and husband, Andrew, remained in the area for decades. She was active in the Presbyterian Church. Her father and marriage information are also listed.
A genealogist will see that the Williams family moved more frequently. Although Gilbert and Louisa (Ripke) were in Marion County in 1880, in 1910, they were living in Wall Lake operating a store. The census listing:
Williams, Gilbert E.         Head     43           Merchant
Williams, Louisa               Wife      41           Sales Lady
Williams, Jay                      Son        18           Salesman
Williams, Cornelia           Dau        14
Rasing, Anna                     Servant  23          Servant
Williams, Mable               Cousin  24           Sales Lady
A family history researcher would need to learn more about the business venture, but in 1920, Gilbert, Louisa and their youngest daughter, Cornelia, were living in Des Moines, Polk County, Iowa. Gilbert was a land company agent and Cornelia was a piano teacher. The genealogist may put together facts and history and note that there must have been some musical ability in the family. The Williams, however, lived in Wall Lake long enough for Jay Williams to meet Florence Finley and form a new family.
That new family produced the singing Williams brothers who America came to know and love. At holiday time, that one brother—Andy Williams—remains in the heart of America and this genealogist.
Every family is special and each has a story to tell. When you hire a genealogist at RecordClick, we find the details for you. Where did they live? What did they do for a living? Who were the members of the household? Did they own their home? Why might they have moved? There are lots of questions and a professional genealogist from RecordClick will help you answer them. Give the gift of your family's history this holiday season.