This genealogy researcher remembers the summer I was 13 years old. My parents finally had enough money to take us on a week long beach vacation. They rented a small house in West Dennis, Cape Cod. Together, we went to the beach and we discovered something known to everyone there for centuries: the Cranberry.
Wow, were they sour! ("Feh!," as my Polish pilgrim of a grandmother would say.)
We had no idea at the time that in our vacation area, these berries had their own pedigree that was even better than a Mayflower descendant. Area cranberries were originally tended to by the Nobscussett Indians, then by John Hall in 1630. In 1816, John's descendant, Henry Hall, accidentally discovered the process of cultivating cranberries. The tour guides at the local cranberry farm that summer in the 1970s told us that while they were abundant, cranberries weren't so easy to harvest and what to do with them was limited.
That was then.
This is now. On Cape Cod so many years later, this genealogy researcher bets the tour guides say something much better about the bogged-down little cranberry and its many offspring.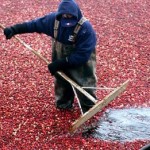 The cranberry is like that successful member of the family, as this genealogist sees it. Everyone tolerates him or her for years. He doesn't say much at family gatherings and what he does say is just…blah and bitter. He does good deeds, though. Then, suddenly, BOOM! By makeover and the right presentation to society, the most unassuming member of the family tree becomes a star.
For the genealogy researcher, this is like the lineage maker for the family history researcher; the improver of the tree for the family tree researcher.
That sour and limited ancestor of today's cranberry had its lineage changed for the better by a debut into dazzling high (marketing) society after being made over. The cranberry's handlers fixed it up with Sugar and this has resulted in an abundant, long and good marriage–producing offspring like crazy.
Much like some of our immigrant ancestors in a new world, a name change, technology, innovation, and the step up through new ancestral lines have given this limited, rotund little nothing of a berry an American Dream comparable to a genealogist's best ancestral find.
In America, 400 million cranberries are now consumed per year, according to industry sources. On Thanksgiving, millions of households honor this berry! We have a cranberry love fest.
For the genealogy researcher, think before Mayflower because this berry goes way back!
According to the website of the country's best known cranberry company, Ocean Spray, the first name given by the different east coast Native American tribe members to this unique American fruit was "Sassamenesh" or "Ibimi" or "Atoqua." The German and Dutch settlers thought the flower of this berry looked like the head and bill of a local crane. And that name stuck: Crane Berry.
A genealogist may find less a family tree and more a family vine that grows in sandy bogs and marshes, mostly in the northeast. For the genealogy researcher, there is no census to check or birth records to seek out. Instead, as in some family history searches, you'll find literary descriptions, pictures and books that describe or show the early origins. How many of us genealogy researchers have read history books and looked at period pictures to get a sense of our origins?
In this case, when you read or see descriptions of today's cranberry ancestors, you'll see that the crane berry was known for its healing properties and its deep color. It was used for dying fabric and healing. The cranberry could draw poison from arrow wounds and helped Native Americans survive.
Skip to more recent times.
This genealogist suspects that it was sometime in the late 1970s and 1980s that Ocean Spray brought in a matchmaker. They knew that cranberry juice and cranberry sauces weren't going to preserve the business. They wanted to move up in the business world.
So, it seems like they worked with a consulting company such as a McKinsey to ensure the cranberry lineage would be preserved for the ages.
The result has been visible in every food store in America for the decades now: Cran-Apple, Cran-Orange, Cran-Grape and Craisins.
Do we call these lineage extensions step-children? Are they legitimate heirs to the little berry of the Native American and Pilgrim times?
Genealogy reaserchers: Are they true descendants of our puffy little red guy who floated around in the northeast bogs, bitter and helpful, but not very easy to know?
Do you have ancestors like this? Quiet and helpful, and then suddenly better known? Or do you want to find relatives like that?
The professional genealogists at RecordClick will find your tribe for you and maybe unearth some quiet ancestors. Our genealogists for hire will also get the social story so that your family tree has historical context. We will that bring your ancestors back to life, so to speak.