Doesn't every genealogy researcher dream of finding a star in the family?
Andy Hardy, aka Mickey Rooney, wanted to take the show on the road and make it to Broadway. This genealogy researcher can't remember exactly what happened to Andy Hardy, but I know that Mickey Rooney made it to The Great White Way. So did his parents, Joe Yule and Nell Carter.
So have thousands of other actors, composers, producers, directors, technicians and crew members. How does this genealogy researcher  know that?  The Internet Broadway Database.  It's a great resource for the genealogy researcher with family members who had dreams of stardom.
According to their website, the IBDB archive is the official database for Broadway theatre information. IBDB provides records of productions from the beginnings of New York theater until today.
And the New York theater goes back a long, long way.
The first resident theatre was established in 1750 when actor-managers Walter Murray and Thomas Kean put on The Beggar's Opera. It ran from December 3, 1750 to May 13, 1751. With time out for the Revolutionary War, plays, musicals and variety shows have been presented on Broadway ever since.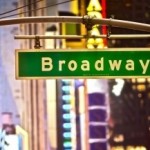 The plays of William Shakespeare have always been popular Broadway productions. According to the IBDB, Hamlet has been presented over 60 times. The first listed Hamlet production was with actor Lewis Hallam in 1761. The most recent production was is listed with actor Jude Law in 2009. The Internet Broadway Database has information on each production including cast and crew information. The genealogy researcher has found that the IBDB may also list additional credits and family members. What a treat for a genealogist!
As for Mickey Rooney, he appeared in only two Broadway productions: Sugar Babies in 1979 and The Will Rogers Follies in 1991. Mickey's parents each made it to Broadway only once. His father, Joe Yule, was a performer in Finian's Rainbow in 1947 and his mother, Nell Carter, portrayed Mrs. Vincent Crummies in When Crummies Played in 1928.
This genealogist knows that the Theater District in New York City has evolved over the years. In the early days, it was located in lower Manhattan. As time passed and the population increased, show places migrated uptown to the West Side of Manhattan in the 40s and 50s. What we know as The Great White Way came into being in the late 1800s. Tony Pastor opened the first vaudeville theatre in 1881. That same year, the play The Red Mill opened with electric signs lit with white light bulbs outside – hence the nickname, The Great White Way.
Broadway has attracted all sorts of people, from entrepreneurs to performers to folks happy to make the productions happen from backstage.
This genealogy researcher has found that genealogy and the Broadway theater cross paths often.
For instance, take Producer, Director, and Theater Owner Florenz Ziegfeld, Jr.
His producing career began in 1896 with A Parlor Match and ended in 1932 with a revival of Showboat. In 1913, he married actress Billie Burke (born Mary William Ethelbert Appleton Burke). The two were involved in five Broadway productions together.
Billie Burke's Broadway career stretched from The Amazons in 1894 to Mrs. January and Mr. X in 1944. She also produced the Ziegfeld Follies of 1934 and 1936. She is probably best known as Glinda the Good Witch in the classic movie The Wizard of Oz.
Countless young people have made the journey to New York City with dreams of showing off their talent. They come looking for their big break. Some have made it, others don't get the chance, and a few find a little bit of the sparkle.
For the genealogy researcher, the Internet Broadway Database may fill in a missing piece of the "what happened to them" puzzle. In the IBDB, the genealogy reseacher will find listed the stars as well as those who have something to do with just one or two productions. This internet archive is truly a Broadway treasure.
Want help finding that ancestor who moved to New York City with the goal of making it big on Broadway? Or finding any other relative in your family? Our professional genealogists will locate your ancestors and show you the bright lights in your family history.